Will these rotors fit on my v6 or will any GT rotors fit on my v6?
---
---
2006 Mustang V6 Coupe Satin Silver Sold

2004 Mustang GT
BBK Ceramic Coated Long Tube Headers, MAC Prochamber Midpipe Off road H, Borla Stinger Aggressive Stainless Steel Catback, Motive 3.73 Gears, Eibach Sportline Lowering Springs
C&L Cold Air Intake, King Cobra Stage 2 Clutch, MGW Short Throw Shifter
Comp Cams Stage 2 High Performance Cams, TrickFlow High Performance Intake Manifold, Ford Racing 24# Injectors
If i remember correctly you will need the GT brake conversion which is like $125
---
2007 v6 convertible
Mods: Single GT take off axle back(waiting for dual conversion), Waiting to apply Caliper paint G2 red paint, 20" Giovanni rims with low profiles, Hood pins with lanyards, Smoked sequential tail lights, billet upper and lower grill, CCFL halo projector head lights, JLT CAI with performance tune.
---
2007 Mustang GT Convertible Stage 0 E-Force #402 Supercharger, Brenspeed Tune (435/400), GT500 Fuel pump, Clutch Delete Option, Roush Front Fascia, Brembos, California Dream Hood, Qwitch latch flush mount hood pins, MRT Light Bar, J&M LCA's, BMR UCA, UPR catch can, 6000k, Pypes Bombs, Pypes X-pipe, Airbrushed Flame pieces under the hood, Clear corners, GT500 shocks , FRPP P-springs (rear), BMR Adj Panhard, E-Force engine covers
2012 Ford Focus SEL 5Dr with MyFordTouch, Auto-Park, 303A Package,


They will only fit if you also get the GT front bracket. The rotors are bigger and the stock V6 bracket doesn't put the caliper out far enough.
But that is the only other thing you need. The calipers and pads are the same. So if you want those bigger rotors, just buy some of the GT caliper brackets and swap them.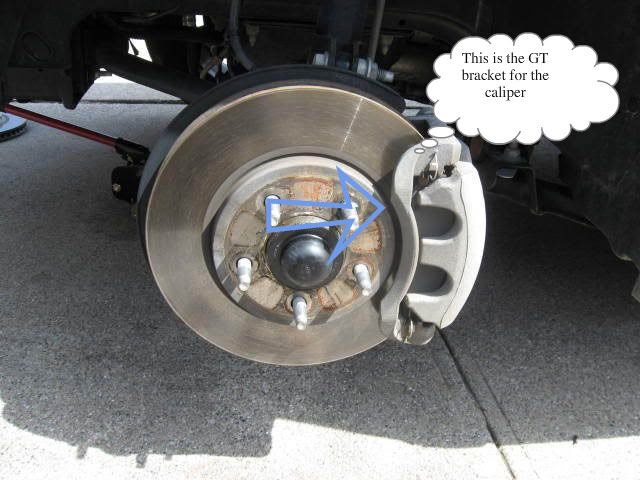 GT size rotor on left - this is why the GT rotor won't fit the stock V6 brakes
GT bracket on left, V6 on right - see the size difference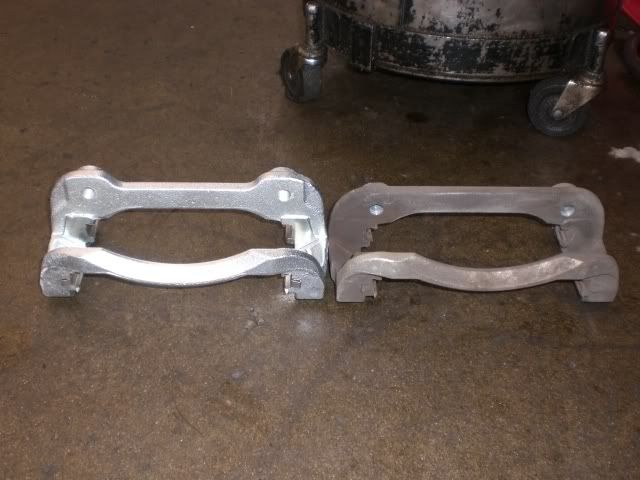 I can't figure out how to make the pictures show up so you will have to follow the link
---
2013 MCA Convertible, automatic - Revelare Designs cowl hood, Hellion single turbo.
if you store the pics in a file on your computer,instead of using a hosting service, you can post them into the posts with the browse button in the mange attachments below. its actually better cause the pic will stay in the post forever instead of missing when the host is gone or stopped ect. i use my documents for pics, and store them on disks.
---
05 V6 auto,
Thanks - the other forums I frequent have you host the pictures.

So here are the pictures
---
2013 MCA Convertible, automatic - Revelare Designs cowl hood, Hellion single turbo.
Posting Rules

You may post new threads

You may post replies

You may not post attachments

You may not edit your posts

---

HTML code is Off

---