Free front grill
---
I was bored today and decided to mess with the front grill a bit. Painted the fog lights black. I don't use them anyways. I also painted the pony black and on the driver side I cut away the plastic part that was covering the cold air tube. Im sure that there wont be any performance benefits to this but I was bored. After a wash here are some pics.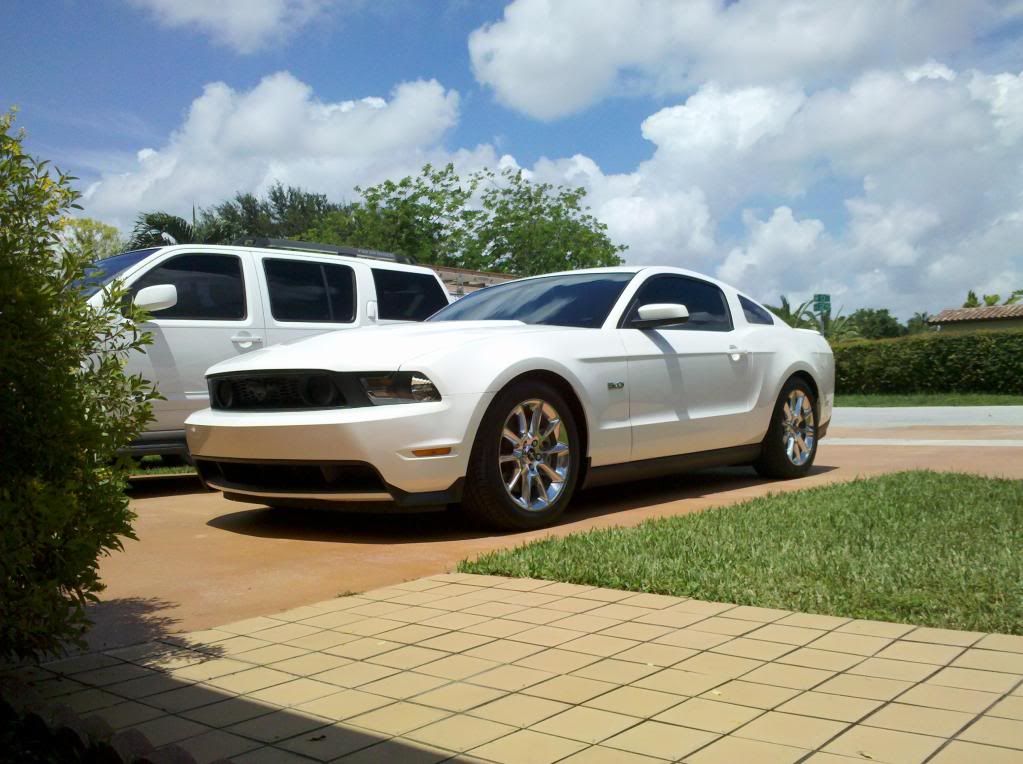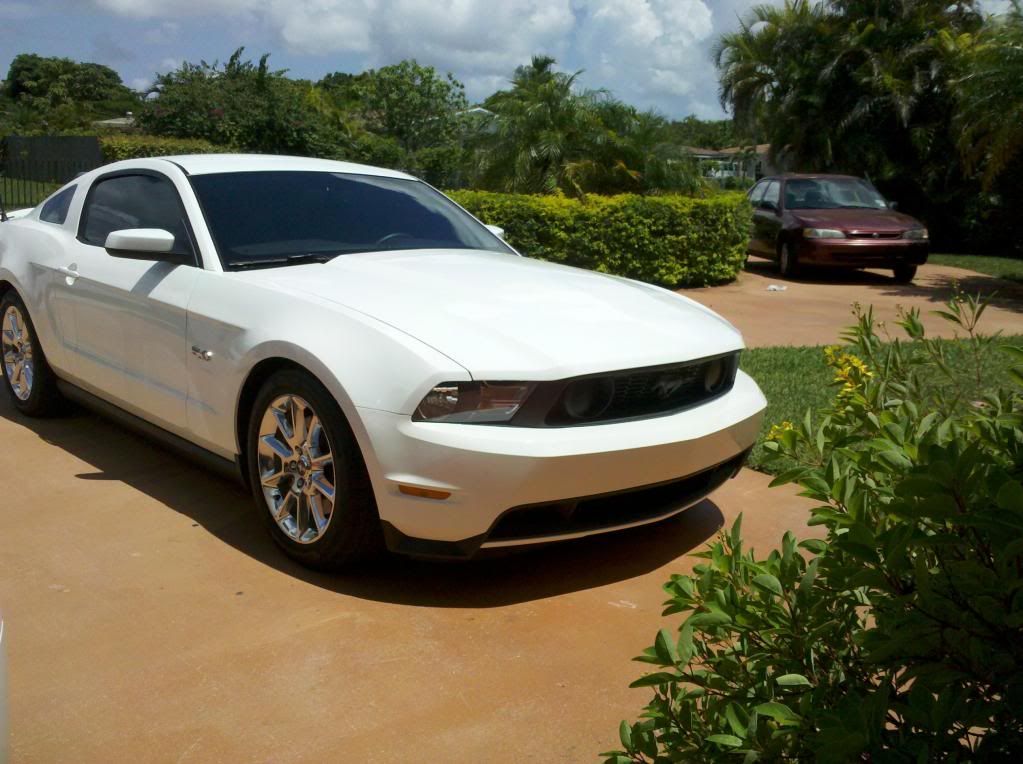 ---
2011 Musang GT 6MT. Ford Racing 4.10 gears, TA Rear End Girdle, Boss 302 intake manifold, O/R x pipe, Ford Racing K springs, upr pro-series lca/uca/mount NGK 6510 gap to 0.32, ID 1000 injectors, KB Boost a pump, Paxton novi2200sl w 3.6 inch pulley 10psi. tuned by lund racing. unknown power.
I wish there was a way to make the foglight lens black or something like that to blend in while still being able to use them.
you can get tinted covers for your fog lights.

AM has them..
---
2015 Oxford White GT Manual Transmission
2013 Grabber Blue V6 Manual Transmission - Sold.
2012 Grabber Blue V6 - T-boned and totaled.
2008 Performance White V6 - SOLD!
I did very simillar to you, bought a 2010 black chrome pony for my grill. Have some smoked covers, but waiting till I get my grill surround painted to install them
---
2011 VMPcharged GT Auto, RGR/JPC Motor, Borla Touring, Alum Driveshaft, tuned by VMP [email protected]
Fired up the willing engine, responding with a roar.Tires spitting gravel, I commit my weekly crime.Wind in my hair Shifting and drifting Mechanical music Adrenaline surge - Rush -
Was expecting a "free" give away grill in this thread lool! But nice work on the grill, looks real mean.
I did the same thing to my sterling gray. I like the look as well
---
2012 White Red Stripes GT500 540/522
-SW Full exhaust -2.8 Metco pulley
2004 White Lightning C&L CAI,exhaust,tuned
2011 Sterling Grey5.0 SOLD
3.73-M6-MGW-AED tuned-JBA Full exhaust-BMR Suspension-423/401
Looks really nice! I painted the pony on my V6 with matte black paint looked awesome for about 3 days (was well prepped BTW) but road debris peeled the paint in spots. I removed the grill to access the pony to release the retainer clips, sand blasted the pony and used a rhino liner type black paint that was textured when dry. I got a lot of positive feedback from people, and the best part it will never chip. I will definitely do the same with the new one! But I'm keeping the fogs the way they are on mine.
---
2011 Performance White 5.0 Premium 6spd MT, 3.73's, 401A
Mods: Staggered 18" FR500 wheels with 255 45 18, & 295 45 18 tires, Air Lift Drag Bags, Roush axle backs, Eibach Pro springs, BMR Adjustable Panhard bar, Center Fog grille, MMD Hood Struts,BAMA Tuned, JPC Line Lock, Blowfish Racing Bracket
5.0
Check out headlightarmor or lamin-x. They make a very high quality protective film in different colors....here is a picture of mine with the fog lights tinted in their Smoke color. It is dark enough to give it the look I was going for, but still useable.
Posting Rules

You may post new threads

You may post replies

You may not post attachments

You may not edit your posts

---

HTML code is Off

---