Quote:
Yes there is an adjustment for rear tire sizes. There's actually quite a few different parameters you can adjust. But you can do the same with the SCT.
Is that just for the speedo? Or will it also adjust for the height differance between the tronts and rears, so the Advancetrak and ABS wont kick in.
Quote:
Still waiting for a reply...
Another question I have: If my rear tires are 1" taller than the fronts, can I use the Intune to adjust for the height differance, so the ABS wont keep going off? That is w/o turning off Advancetrac.
I completely forgot about this thread and I was just searching around and found it. I wanted to let everyone that doesn't already know that the logging pids have been added from at least 6 months now. For anyone that may be digging up this thread at a later date. Here is an example of the default logging list that both and the intune and trinity use for the 11-up Fords which includes the knock strategy, MAF Hz, Target and actual lambda etc... By default I mean all you have to do is go to scantool-> datalogging-> record and it will automatically log everything you want to see. Pretty much same steps for trinity.
Here is a screenshot from an intune log on an 11up Mustang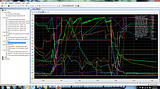 Also to answer the tire size question yes both tools give you that ability as well as gear ratio. I've also since added part throttle shifting targets, WOT shift RPM and
trans
pressure shifting adjustments. Just make sure your tools are up to date and even if you have an intune I suggest taking the car to stock before updating to ensure you get everything as far as pids, tunes, parameters etc...
I'll try to hang around here more often to answer any questions or address any concerns you may have.
Is there not a 91 octane tune for a 2011 GT500? I plugged it into the car and it only had a 93 octane and 93+pulley tune. I'm on the west coast where there is no 93 octane, only 91, so what can I do?
Posting Rules

You may post new threads

You may post replies

You may not post attachments

You may not edit your posts

---

HTML code is Off

---