Questions before I install springs...
---
I have a set of FRPP struts, shocks, and two sets of springs. I understand one set to be a 1" drop and the others are 1.5" (I think)- part #'s on the 1" set are: and on the 1.5" set: If you can verify, please do!
Questions:
1. Why are the unloaded 1.5" rears longer than the 1" ones? (see pic 2)
2. Which way do the rears go- tightly wound coils up or down?
3. Does the front strut go togther as shown in pic 3? Maybe it will be clear when removing factory stuff.
4. I'm thinking about lowering the front 1", rear 1.5". Any reason not to do this?
Any other tips?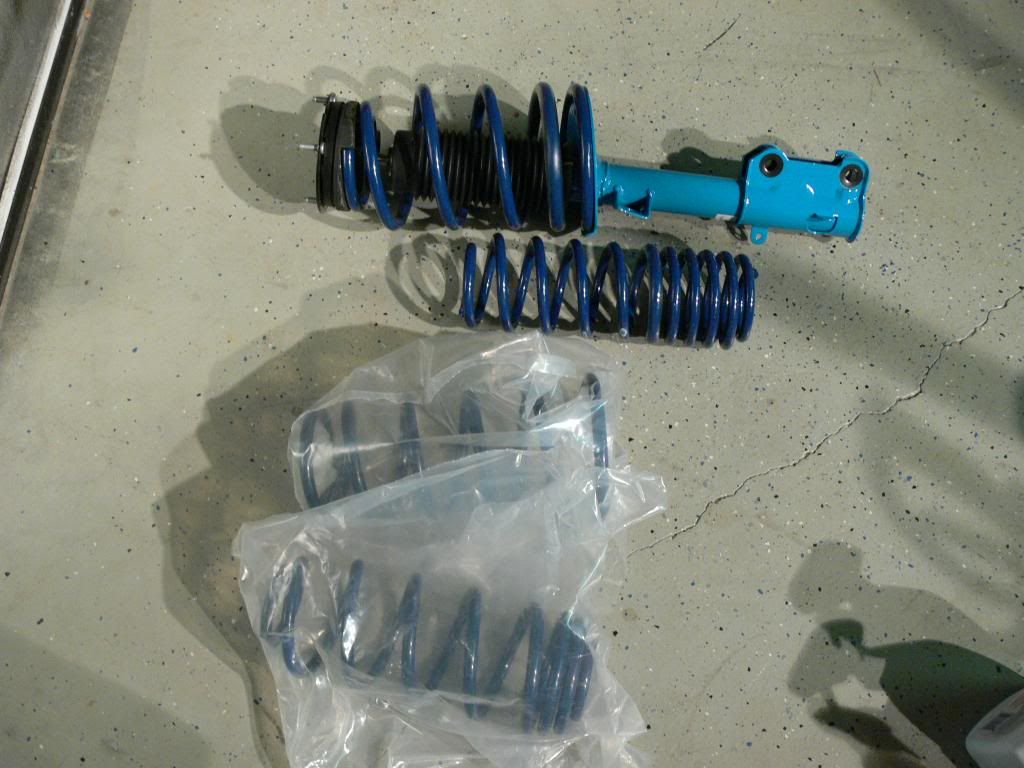 ---
2011 GT Premium Vert ordered 7/9... arrived 9/21
Brembo, 6spd, HID, Comfort
Sterling with Brick red leather
RTR wheels, hancock tires Ford racing Struts,springs, shocks, sway bar
CHE panhard bar
LLoyd custom mats
Steeda CAI, SCT Lethal Perf tune, Corsa axle back
I think the rears can be installed either side up, I called FRPP tech and switched mine to tight colis up. I would install either both 1.0 inch or 1.5 inch, I did the 1.5's on my son's GT/CS, sometimes the back looks low. So I don't think I would mix them. The rears are easy to take in and out, so you could check both set s though. Good luck !
---
07 GT/CS vert, wife's car, garage queen. sold 11-30-13, going to good home, 7,785 miles.
2013 GT PREM., 500 pckg, needs mufflers...
07 GT/CS, son's car.
1971 Boss 351, mine since 1979.
68 Cougar, my first car, interviewed on Pinks All Out Takes, STL 2008, 10.40's @ 130, 399 Windsor
Son's S/C dragster, SBF 7.92 @ 165 so far......
Does anybody know how much the 1" and the 1.5" FRPP springs will settle beyond the initial install height???
---
2011GTCS
'18 Kona Blue GT Premium | PP1 | Whipple Gen 5 Stage 1 | MMR OPGs and sprocket | UPR Catch Can | Barton hybrid 3 | Custom DSS chromoly DS (1400hp) | DSS half shafts (1400hp) | Steeda IRS Subframe Support Braces | Steeda Jacking Rails | Shelby CS3 Wheels 9.5 & 11 x 20 | NT555 G2 275/35/20 front, 315/35/20 rear
Posting Rules

You may post new threads

You may post replies

You may not post attachments

You may not edit your posts

---

HTML code is Off

---