Quote:
These are wheels and tires removed from 2010 Roush conversions that have been chromed - wheels have less than 2 miles on them

They are the 2010 stock mustang gt rims and were chromed

What does everyone think of these?
I would put them on my car if they cleared the Brembos.
---
Kona Blue GT Premium, 3.73's, Brembo's, HID, Security, Black Leather int. Jon Lund 93 octane Tune, Stainless Works X pipe, GT 500 exhaust, K&N airfilter, Roush Cue Ball shift knob, Roush lower control arms, Nitto NT05's 275/35ZR19's on rear, Nitto NT555 275/35ZR19's up front. Kicker 6X8 speakers, Escort Solo Radar Detector
Quote:
I really appreciate the reply guys i have the race red mustang...i have the stock v6 factory rims...Any suggestion of what rims I should get for race red?..I really want a factory type...not crazy about aftermarket rims..but not sure what I like on the race red
well, anything other than 17"s and your buying tires also.. I personally like these, I think they'd look great on the Race red..

05-11 MUSTANG 19" GT FACTORY OEM WHEEL & TIRE COMBO - eBay (item 180629838125 end time Feb-27-11 19:00:00 PST)
---
2011 V6 Premium ,Grabber Blue/White Stripes/Charcoal Black, Auto/2.73, 202A Pony Package, Comfort Package.

Mods, Factory Engine Cover, Ford Strut Tower Brace, 19" Painted Aluminum Wheels/245-45-19 P-Zeros, Wheel Locks, Ford Accessory Alarm, Ford All-Weather Mats, window tint, spare tire/jack, cam cap mod.
on deck... Polk Audio db571 X 4 speakers & baffles
Not good at all. Too blingy and ricey.
---
Bryce
---------
Track Rat #1 - VF supercharged e46 bimmer
Track Rat #2 - Kona 5.0 Premium | 3.73 MT82 | 400A | glass roof | saddle int. | Brembo Pkg | Com. & Sec. Pkg | camera | HID | Nav | no stripes | MM camberplates | Bilstein springs & Eibach dampers | Stock 368 RWHP @ 6700 / 354 TQ @ 4375 - Build Date 6-17-10
Sunny Day: Kawasaki 1600 with hypercharger and tune.
We have a set of the '09 GT/CS wheels on my wife's Race Red '11 V6. They look very similar to the wheels you are thinking about.
She gets lots of compliments on how good they look on her car.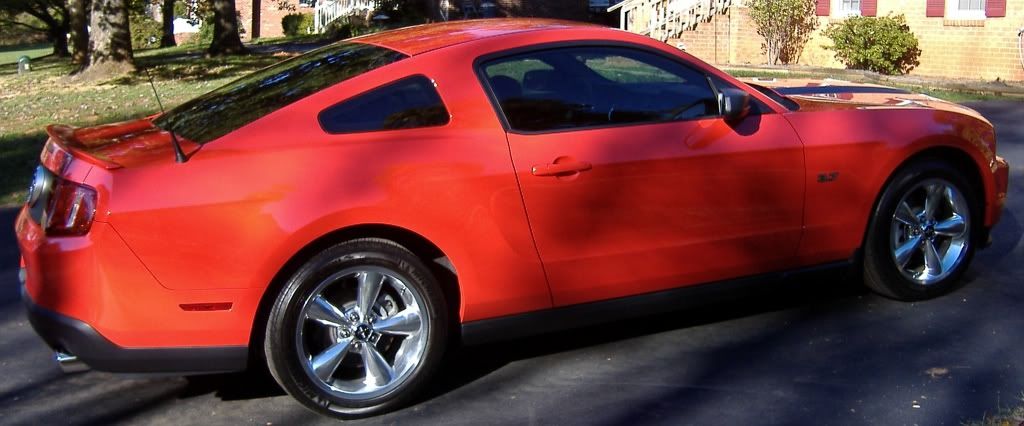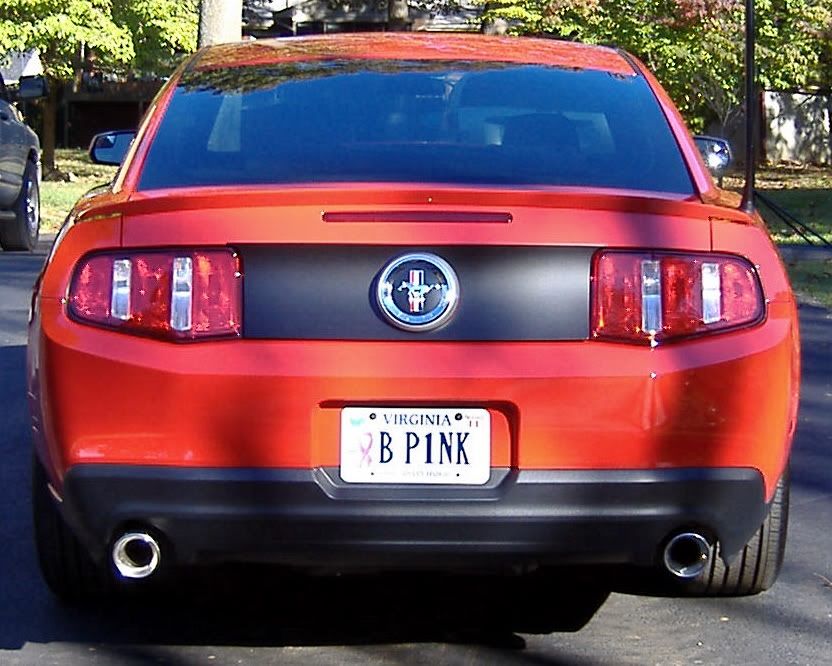 they look good but IMO only on black or maybe red.

black is like the only color that chrome is usually always a winner. red, sometimes depending on the rim style but usually not so much on white or yellow or other lighter colors.
---
2012 GT Premuim - Candy Metallic Red, MT82, Comfort package, Reverse Camera, Brembos and 3.73's.

Mods: JLT oil separator, Koni Sports, Steeda sport springs/HD strut mounts, GT500 Axleback, Air Raid CAI

373 RWHP / 356 TQ - Stock on 87 octane
Posting Rules

You may post new threads

You may post replies

You may not post attachments

You may not edit your posts

---

HTML code is Off

---