Edelbrock E-Force Supercharger for 2011 GT at AmericanMuscle
---
Available 3/21/11 for pre-order! Shipping as of Early April 2011!
-
Check Out More Details
!
We've been waiting for this for a long time, and so have many 2011 GT owners. In 2009, one of the
coolest running
and
most powerful superchargers per PSI
came on the market for the 3V Mustang GT's from 05-09. Because of how affordable this kit was as well as the awesome design, it quickly became
the most popular kit on the market
. Now, Edelbrock is finally ready to unleash their 5.0L kit, and the gains are sure to shock you!
AmericanMuscle Pre-Order!
Be one of the very first to enjoy the monstrous horsepower and torque gains of the Edelbrock E-Force Supercharger Kit for your 2011 Coyote Mustang GT. AmericanMuscle has teamed up with Edelbrock to offer pre-orders. Be the envy of other Mustang enthusiasts -
reserve yours now
.
More Power.
This E-Force Supercharger Kit was exclusively designed by Edelbrock to provide instant, reliable and safe horsepower for a stock 5.0L Coyote Mustang with low boost for minimum stress on the engine to produce an outstanding 559 HP and 503 ft./lbs of TQ at only
5 PSI
!
Unique Design.
The heart of the E-Force Supercharger is the all new Eaton Gen VI TVS Supercharger rotating assembly that has been integrated into the intake manifold for a seamless design with minimal components to eliminate the possibility of vacuum leaks. Edelbrock's unique inverted supercharger assembly is placed low in the valley allowing for 15" long intake runners for maximizing low end torque.
Stay Cool.
Edelbrock uses the largest intercooler available. Keeping the air cool is a 110 square inch high capacity air-to-water intercooler and full face low temperature heat exchanger, making it "coolest running supercharger" on the market today.
50 State Legal.
Unlike the competitors, Edelbrock Superchargers are 50 state emissions legal under Carb E.O# D-215-77.
Application: This Edelbrock E-Force Supercharger Kit is specifically designed for use on the 2011 GT Mustang with the all new Coyote 5.0 engine.
Worried About Warranty?
Optional Edelbrock vehicle warranty is available -
click for details
!
YouTube - 600HP 5.0L EForce Supercharger Dyno Pull
* Taking Pre-orders Now
* 559 HP and 503 ft./lbs of TQ
* 15" long runners for increased low-end torque
* Installs under the stock hood
* Includes TMAP Sensor to monitor boost
* Also has 1/8" NPT tap in manifold for boost
* Can be pullied for higher boost levels
* 50 State Legal - Carb E.O# D-215-77
* Made in the U.S.A.
* Fits 2011 5.0 GT Mustangs
And now for some pictures!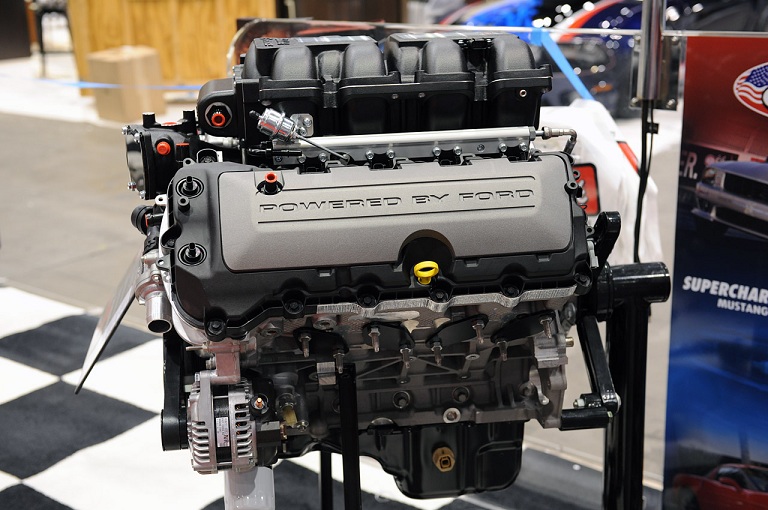 ---
Chris Rose | AmericanMuscle.com
Toll Free: 866.727.1266 | M-F 9AM-9PM EST | Sat 10AM-4PM EST
Bama Hotline: 888.226.9764 | M-F 9AM-5:30PM EST | Sat 10AM-4PM EST
Free Same-Day Shipping!
Need help? PM AMAlexLazarus for immediate assistance!

For anyone wanting to order this kit if your a member of mf pm someone in that vendor section and get a nice discount code that will ad up to a LOT off this kit
---
2013 mt82 3.7-spl del/sgm/charcoal/tech pack/recaro
Mods, 3.5"ant/dynomax mid exh/bronze tsws 245/50/18 kumho/sportline-pro kit&gt500 mounts/J&M phb/eibach lcas/redline/roush/sk&pedals/gt-wfg/cf blkout/license insert&upper grille, mustang sills, jlt/3.73s/steeda 93perf&sctx3, am mirrors&tlc/roof wing/open lower/stillen lip/steeda sts&bush/rtr'd rear
Got one coming for the 3.7L? LOL

I know, it won't fit in between the "V" on a 60* engine, but thought I would still ask.
---
166,xxx miles
2011 3.7L MT82 Kona Blue GT/CS Pedestal Spoiler, Cervini's HE hood, Stillen chin spoiler, BBK headers, GT T/B, Steeda tune, Ram 9.5 Dual Disc clutch, 3.15 axle T2R Torsen, 285/35/18 w/ Steeda 18"x 9.5"+44mm Q1s, Steeda Sports springs/Koni struts/Viking shocks, Shelby adj front sway bar, Boss302 Rear sway bar, Whiteline Watts Link, 14" "Brembo-ish" brakes and 3/4" front wheel spacers/ARP studs.
I noticed 6 lbs of boost was used on the 600-plus hp dyno pull. In all fairness, 559 hp is advertised with 5 lbs on the kit that is for sale. Is 6 lbs past the pressure considered reliable for the street? Also, these figures are taken at the crank. How does that parlay to the rear wheels with an automatic?

That looks like a stock air filter. Would the currrent lot of CAI kits (I have an Airaid) be useable? If so, what kind of additional gains would be realized with a CAI?

Looks like my FoMoCo GT shock tower strut won't clear. Are there struts on the current market that will fit with this setup?

Questions, questions, questions.

Thanks for your patience.
Honestly, there are guys at 600RWHP on centri kits at about 10PSI with no issues. So if you opted for this kit with the upgraded pulley at 540ish RWHP, you'd still be well within the safe realm with good 91 or 93 octane and the right custom tune.
---
Chris Rose | AmericanMuscle.com
Toll Free: 866.727.1266 | M-F 9AM-9PM EST | Sat 10AM-4PM EST
Bama Hotline: 888.226.9764 | M-F 9AM-5:30PM EST | Sat 10AM-4PM EST
Free Same-Day Shipping!
Need help? PM AMAlexLazarus for immediate assistance!

The questions is,
Edelbrock offer full powertrain warranty as an option with the supercharger. Can you guys also sell this waranty ?
and as far as i understand warranty only covers edelbrocks stock tune with stock S/C. Am i correct in this one ?

How does this compares to Roush ?
They seem very similar only difference is that Edel is moaking a little more power at 5 psi instead of Roush's 7psi. But Roush S/C already comes with 3/36,000 warranty.

So at the end Rosuh is a little less expensive.

Anyway any of those S/C's with 6% military discount is going to be tempting after i sell my tC.
This sucker is going to be on my Christmas list! :kooky:
---
2014 Sterling Grey 5.0 Brembo
* ROUSH Axle-Back Exhaust
* JLT Oil Separator (Passenger)
* RAXIOM Tail Light Sequencer
* ARAID Race CAI
* BAMA Tune (91-Perf / 93-Race)
* 20% Tint

Posting Rules

You may post new threads

You may post replies

You may not post attachments

You may not edit your posts

---

HTML code is Off

---