Quote:
That sounds interesting and complicated. How hard is that to do?
It's not hard at all.
Grab some fiberglass resin at home depot and a square foot of fiberglass.
Pull the fiberglass apart so that you have a pile of fibers(wear gloves). You can probably find some fiberglass that's already separated. The stuff I use at work comes on a big roll, so I have to separate it by hand.
You'll want a pile of fiberglass strands roughly an inch long
Mix the fiberglass and resin in a small paper cup until it is like a paste.
Apply to the damaged area and let it cure. Keep in mind your going to be sanding it down so don't leave yourself with a mountain.
Use a rough sandpaper for starters until you get close to even and then go to a higher grit, once you are really close go up to a higher grit again. I would say start at around 120 and end up at 900, even 1200 would be a nice grit to end with.
Then you are ready for paint.
This is not an area of structural importance, so I left a lot of steps out. This is a cosmetic fix, and it's not very difficult. If you are going to replace it anyway, you might as well try it out. It'll probably cost you less than 50 bucks for everything I mentioned.
Good luck
---
2013 Mustang GT, Track Pack, 3.73's,
Hotchkis springs, 18x9.5,18x11 Forgestar CF5's, Lethal o/r H-Pipe, JLT CAI, BBR tune, Hotchkis panhard, UMI LCA relocation brackets, BMR LCA's, MGW, GT500 strut mounts, KYB struts, GT500 ab's, Steeda motor mounts, NX plate
2003 Mach 1-R.I.P
2003 Mach 1-Procharged*SOLD*
Quote:
And the first round goes to Road Debris.
Ok, I'm driving today on I-30 in the center lane when a random piece of something (about 2 foot by 3 foot) flies off another car going the opposite direction and into my path. It's coming strait for my windshield so I hit the breaks (couldn't dodge, traffic to ether side) and it hits my chin spoiler and goes under the car. Minor scratch on the front passenger tire, but it took a small piece out of the spoiler.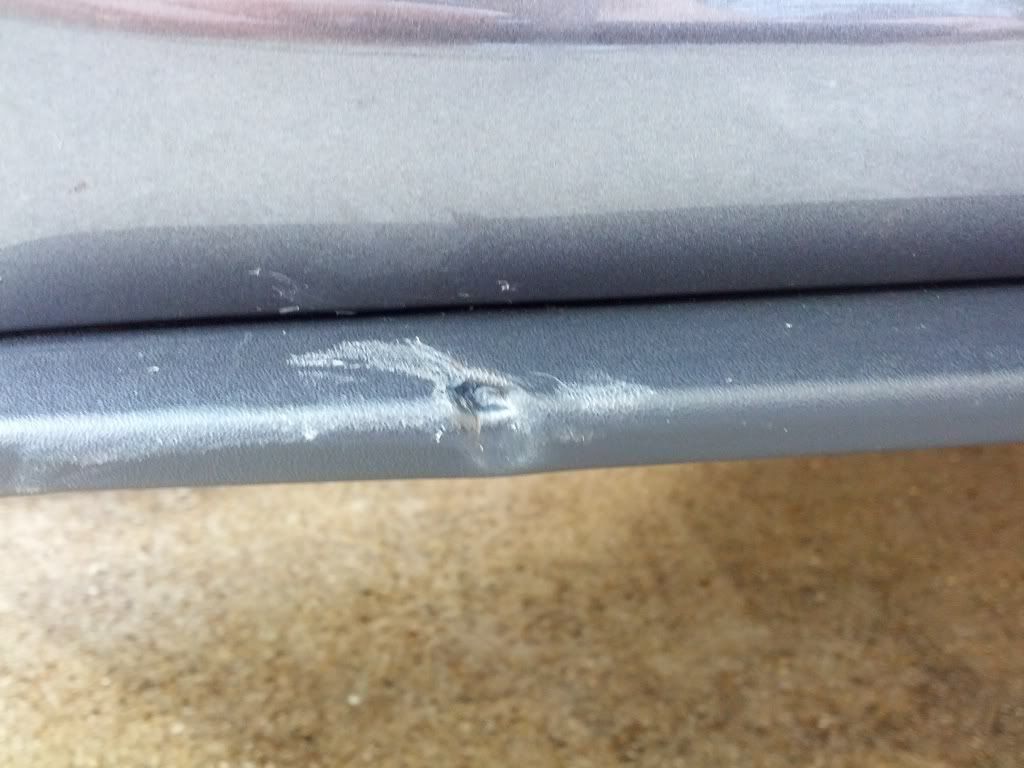 While I am thankful because this could have been SO much worse, I'm still mad about the damage to my 1 month old 2013.
So, what to do? It's relativity minor, but it's still there. Do I go ahead and replace the spoiler? Should I just try to cut off the hanging piece of plastic and smooth it down?
Any suggestions would be appreciated.
P.S.
/rant on
SECURE YOUR LOADS PEOPLE!!!!!
/rant off
I would wait for it to get more dings before replacing it.
---
Sometimes, I see cops with their backs turned writing tickets. When I drive by I can see them stick their heads up,and sniff the air,catching a whiff of exhaust and burning rubber,the crimson smell of speed,telling them a Race Red Mustang is somewhere nearby!


2012 Race Red GT, Kenwood Navigation system with Metra dash kit,GT500 steering wheel,Steering wheel buttons INCLUDING BT enabled,Takeoff leather seats with seat heaters.
Quote:
I agree completely but if it was "protected", maybe he could avoid future damage. Either that or just drive it!
I hear you on the protection, but nothing would have stopped this. A 2" by 3" piece of metal flying 60ish MPH toward you while your headed 60 MPH toward it. Unless your in a tank a 120 MPH collision is going to leave a mark.
As for the rest of the suggestions I think I'm going to sleep on it and if it still bothers me I'll either try the fiber glass repair or look into a chin spoiler upgrade. or both.
Thanks for the fiber glass repair idea BTW, I would never of thought of that in a million years.
---
-------------------------------------------------------------------------
On Order: 2013 Sterling Grey GT Premium - 19" Wheels - Comfort Package
Ordered: 4/2/2012 VIN: 4/18/2012 Build Week: 4/23/2012 ETA: 5/5/2012 Received: 5/4/2012
Posting Rules

You may post new threads

You may post replies

You may not post attachments

You may not edit your posts

---

HTML code is Off

---