Quote:
Gorgeous!
Awesome! How much did the one in the pic cost?
And I like the Android part
Theres about 25 different species in the picture, which one are you talking about?
Most of the frags cost anywhere from $40-$75 when I originally purchased them. Theres a lot to it. I have to dose chemicals everyday and the tank goes through 2-4 gallons of water a day that has to be replaced on a regular basis to keep the salinity at the right level.
Thats where the automation system comes in. It doses and adds water every few hours to keep the levels of tank consistant (very important for coral growth). The tank emails me when the topoff water is low and there are temperature fluctuations outside of the norm.
---
2012 Race Red GT Premium | MT82 3.31 | HID/Security | Steeda CAI | BAMA 91P | JLT Seperator | Steeda Shift Bracket | Steeda ProAction Shocks/Struts | Steeda Heavy Duty Strut Mounts | Eibach Pro-Kit (Dub) | J&M Adj. Panhard | GT500 Axle-Backs w/Resonator Delete | Ford Racing STB | American Muscle GT500 Black Machined 18x9/10 Nitto 555
Quote:
This gets a lot of my time and wallet.
180G SPS Reef Tank with corals and fish from around the world. Its on a fully automated system that can be controlled from the internet and an android app.
These all started from 1-2" pieces and a number of them are over 12" in diameter now. Going for 4 years now.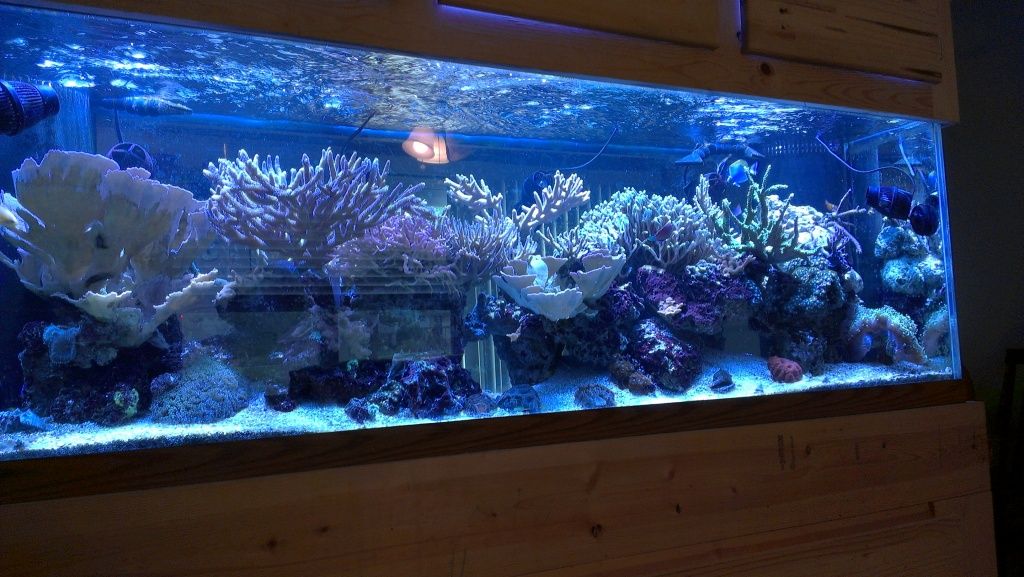 VERY NICE!
I love aquariums.
Besides my car, I spend my $$$ on trains.

I have spent atleast $1500 on parts for the locomotive I am working on right now, that is a LOT of money for a 18 year old, lol.
---
Race Red 2012 Mustang GT Premium 5.0, 6-Speed Manual Transmission, Brembo Brake Package, HID Headlights, Navigation, Comfort Package, Rear View Camera, Saddle Interior - Airaid Cold Air Intake/MGW Shifter/5.0 Floor Mats/ Bondra Clutch Extender/Flowmaster Outlaw Axle Backs/Boss Side Pipes/BMR Upper & Lower Control Arms/Steeda Shock Tower Brace/Moroso Oil Catch Can/2013 LED Fog Lamps
I enjoy seeing folks list their kids and wives as the things they spend the most money on. I have always said I robbed my dad of his expensive hobby (which was GMs) so he spent time on his less expensive hobby, computers. I spent plenty of his money growing up playing sports (not cheap) and music (also not cheap).
Now, most of my disposable income goes to my 1968 Mustang Coupe, my VW Golf TDI (winter car...new battery, temp sensor, broken good latch, crazy electronics, so far this year), and karting. I joined an indoor kart racing league and its pretty pricey, but crazy fun. My family also goes all out for gifts any chance we get, so I've dropped a few grand on Christmas already, too.
---
1968 Mustang Coupe /
2012 Black Mustang GT Premium Coupe
Black / Saddle, 6MT
Posting Rules

You may post new threads

You may post replies

You may not post attachments

You may not edit your posts

---

HTML code is Off

---