Post your winter tires/wheels here!
---
I noticed another mustang website has a dedicated thread for winter tires/wheels. A few members here have made threads on their setups so I thought we could have everything merged here. The title says it all…
My setup:
Michelin x-ice3 225/60/17
17" Elbrus I02 silver painted wheels
The wheel/tire set was purchased from tire rack and delivered to an installer stateside across the border. Everything went fine with the transaction/install and I even got some advice from the American border guard who insisted that I was a fool for driving the stang in the winter; maybe he drives a Honda and just wanted to take it out on me lol.
Dry Performance
:
I had a chance to immediately test the new setup on a relatively warm day 12C. I was impressed with how quiet and composed the tires were. I can barely tell a difference between them and the stock Nero tires which are 18" and wider (235). I've driven some sloppy winter tires before but these new generation tires have come a long way. On the highway, I gave her a little extra on the ramps, and they were tight, firm and composed. I debated about getting performance snows such as the Alpine series but now see little reason to, which leads me to my next point…
Snow Performance:
Most "performance" snows flat out suck in actual snow and ice; I do not live in Carolina but in a true winter climate. We had our first snowfall today, around 6 cm. I went to a nearby mall to test it. I drove over impacted and icy snow and no matter how hard I slammed the brakes at 60km, I could not get the car to slide. The ABS only kicked in once which tells me that the tires are doing their job. Next came the donut test (mmm, just thought of Tim Hurtons eh!), while I could get the tires to break a little, the car very quickly regained traction. That said, from a stop, I was reminded that I'm driving a powerful rear wheel drive car, and when I hit the gas a little to enthusiastically, I spun the tires. Go easy here folks, be reasonable, think safe, and I'm sure the car will rarely get stuck at a stop or lose control when accelerating at all speeds. I don't think I'll need to add any more weight in the trunk but I have a 12 kg hitch over the rear wheels.
Aesthetics:
I viewed a ton of wheels which were not too much more expensive than a basic set of steelies. I looked at bullets and everything else. I settled on the Elbrus because I like the silver finish which won't look too bad with salt on them, and the basic star pattern because they are very easy to wash. The style of this wheel reminds me of the 19" mustang nickel plated wheels which I really like. They look better in person and have a modern feel. The shape and lines make the wheel appear to be larger than they are.
With this setup, I won't be as eager for the spring to come, knowing I have a very capable snow tire (which handles like an all season), and a decent looking set of wheels. I would reassure anyone living in a northern climate not to worry about a smaller wheel/tire.
Cost
:
By choosing a 17" tire/wheel over the 18" setup, I saved a ton of cash (over $400), which I will use to get my steeda tune! I have no regrets at all in downsizing. For daily winter driving, you can't tell a difference. I would pony up a few extra bucks and get the xi3 tires as they are a little more than entry level wheels. They are that good. I would pay a premium to have a top tier winter tire and don't understand why some want to nickel and dim when it comes to winter tires.
---
2012 V6 Auto / MPT Performance-Street Tune (5.0 Killa)


I just got the all Season BF Goodrich 225/60r17's on 2013 Premium wheels from Roush for $600, don't really need snow tires in Tennessee since I don't work when it snows and it normally melts off the first day. Plus I still have the wife's 4 wheel drive Rav4 if I really need to go out in the snow.
I was more worried about low temps with the Summer only Pirelli P-Zeros.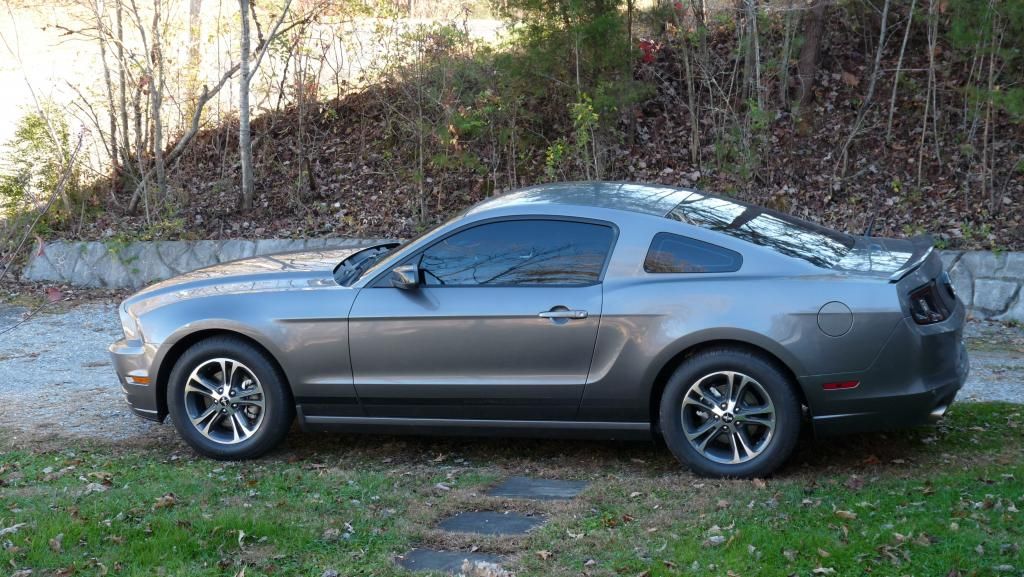 ---
2013 Performance Package V6
2013 F150 6.2L Boss
Yes it is a Boss
I run my NITTO NT555s all year around wooo
It would be helpful if posts were limited to owners who have actual snow tires. I noticed that these types of threads seem to attract people form places like Florida who boast that they use summer tires all year round. These posts have stopped being witty/funny a long time ago.

In summary, if you don't use winter tires, please refrain from posting here.
---
2012 V6 Auto / MPT Performance-Street Tune (5.0 Killa)


OEM Brembo Brake Package wheels and 245/45-19 Michelin X-Ice X2's.
Quote:
OEM Brembo Brake Package wheels and 245/45-19 Michelin X-Ice X2's.
Please tell us how you like your tires and how they perform so others can make an informed decision.
---
2012 V6 Auto / MPT Performance-Street Tune (5.0 Killa)


Will be putting on my Nokian Hakkapeliitta R winter tires this week, running on the stock gt rims.

Used Hankook ipike tires on my charger lat yer and they were really good! Granted we didn't see much snow up in Toronto last year.
---
Black/Black 2013 GT - 401a - 3.73 - Electronics pkg.
- Vossen CV3 matte graphite 20x9.5 / 20x10.5
- Michelin Pilot Super Sports 255/35/20 & 295/30/20
- Borla Atak axle back exhaust.
- Wrapped in 20% Tint
- Side Marker, Rear quarter panel, rear bumper and Coyote 3rd
brake light tint.
Here's mine. But you won't be able to see them for a few months :hihi:
---
2011 GT. Grabber Blue. Procharged. 3:73 manual.Billit LCA's. Corsa Extremes. GT 500 wheels. Racemaster DR's. T-56 Tremec. Dynotech DS . Centerforce DF. American Racing headers/high flow cats 560 rwhp.Donny Walsh tuned

2012 Pony Package. Race Red.3:31 automatic.BBK longtubes and catted X.FRPP Sport axlebacks. BBK throttle body. Dynotech DS. Brembo wheels and tires. Strut tower brace. Airraid CAI. Bama tuned.
Posting Rules

You may post new threads

You may post replies

You may not post attachments

You may not edit your posts

---

HTML code is Off

---