New Daily Driver... For Now ;)
---
Until i get the mustang up i figured i would share the new DD. It is my 1967 F100 Original HighBoy with a motor swap 460 Big Block. Nothing fancy, single cab, short bed, 4x4 of course on 35" ties, Still in primer. Was the project i had waiting after the mustang but looks like it is going to come a little faster. Plans are a diesel conversion to a DT360 with an allison 1000 5 spd until i find a allison 1000 6spd.
Should be daily driving in a week or so. Just in time for Dec 21st :p hahaha
Goals with diesel build are 800whp so roughly 2500tq at the wheels. Twin turbo pushing about 60-90PSI roughly and might add propane/meth shot if its not enough. Body is going to also get redone with fiberglass once the car is payed off by insurance so i am out the whole for payments.
Will keep everyone posted on what happens to car and for parts and such. If things go well on my end i am looking at ordering a 2014 Mustang
when i saw the aftermath pics of your car i cried ... i couldnt even bring myself to write a comment i was in so much pain.
---
2013 Mustang V6 - Black
Performance Mods

C&L CAI, BORLA LT Headers, Borla X-Pipe with Hi-Flow Cats , Pypes Resonators, Borla Atack Axle Backs, SCT X3 with 93 Octane Performance STAGE 3 MPT Ghost Cam Tune, Steeda Short throw shifter, Hurst Pistle Grip Knob.
Youtube
: RCKTPNY
Instagram
: danyal_meyer
At least one anyway.....
---
2015 Gt with perf pack/Guard Green/MBRP race exhaust/Steeda shifter bracket/ ....... more to come


Originally Posted by cudaman ........
Let's hope you don't have the same problem with your zipper and your fueling rod, should you run into another female in a Camaro that needs genetic gas.
Quote:
when i saw the aftermath pics of your car i cried ... i couldnt even bring myself to write a comment i was in so much pain.
All i am happy about honestly is no one got hurt. It could have been so much worse! Now its legal issues to deal with and insurance.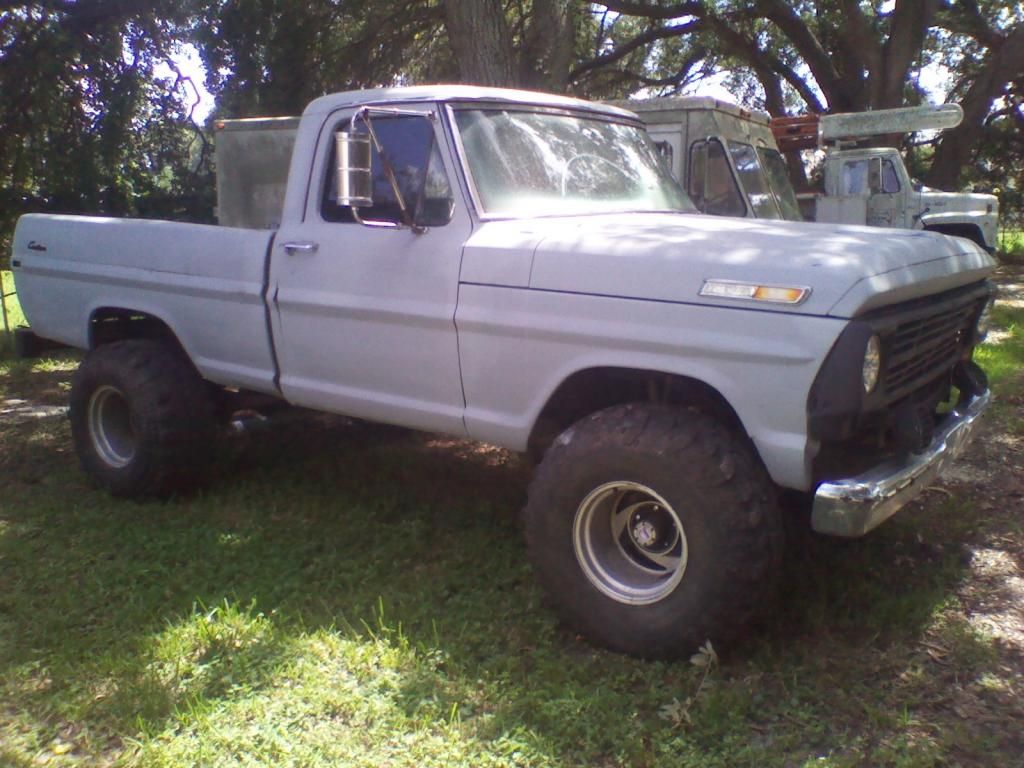 Dont mind the other trucks in the back round. This is the picture when i first bought it. Needs to be stripped to frame and gone through from the ground up. Going to be a hell of a project but needs to get done if i want to build it for the power i expect.
I love it!
Hang in there.
---
2012 Ingot GT Premium / 401a / Reverse Sensing & Security / 3.73 Rear

Mods: CS Fascia w/Fogs / Saleen Grille / Flowmaster Hushpower AB / Koni STR.T Struts & Shocks / Steeda Sport Springs / Steeda HD Upper Mounts / BMR Adjustable Panhard / TPS Slotted Rotors / Hawk Pads / JLT Catch Can / Barton Shifter / Barton 2-Post Bracket / Airaid CAI / Rockers painted to match / HID Retrofit / Bama Baby!

Thank you, all i have right now and so far she has come alive for the day, need to convert the whole system to electric fuel delivery and get a new carb and it should be on the road once the tires are done and new springs and shocks. Not to bad to make a DD for point A to B.
SHELBY GT 350 Member
V6 Member
5.0L Member
S197 Member
I like it too. All the best getting your next Mustang soon!
---
2011 Ford Mustang V8 5.0 GT/CS Black Coupe MT - (Mods in my profile, too many to list here...)
"Don't wait for tomorrow to look back and wish for today": In Memory of a great guy: Pcfrisch.
i bet thats good on gas....not
---
2012 V6 traded in for a 2017 VW GTI.
Posting Rules

You may post new threads

You may post replies

You may not post attachments

You may not edit your posts

---

HTML code is Off

---