Quote:
There is no drone with the resonators removed.
Absolutely no drone at all .....
---
2012 California Special Convertible / Ebony Black / 5.0 liter / MT-82 / GT500 Axle Backs with resonator delete / Steeda Tri-Ax shifter & base bushing / Airaid CAI / BMR LCAs / BMR Relocation Brackets / BMR Adjustable UCA & Bracket / BMR Adjustable Panhard Bar / Steeda Sport Springs / GT500 Strut Mounts / Koni STR.Ts / Shaker 500 with Infinity 6832CFs / Redline hood strut / Redline leather shifter & E-brake boots
Not going to get any drone by deleting the resonators. The output will be a bit louder but won't create any drone. Factory usually install resonators to cut down on rasp.
---
2013 Deep Impact Blue Metallic MT-82 401a
DiabloSport in tune - AirAid CAI - SVT GT500 AB - Ford Racing P springs - Forgestar F14 - Roush rear/side splitters - Stillen chin splitter - CS Fascia conversion - LED fog delete - 2 much 2 list.... Official mod addict: D
I got mine deleted for about 75 dollars. Just to clear something up for people who are looking to get the resonators deleted, where they are located is right after the H-pipe and there is no bend in the tube at all. So all the muffler shop or you have to do is cut the resonator out, and weld in the same size tube. Your car will be a whole new beast!!
---
2011 Mustang GT Premium l Brembo Brake Package l Black Leather l Airaid CAI l Bama 91 octane tune l GT500 Axle Back l Resonator Delete l
1967 Convertible White Mustang l automatic l 351 Windsor l 550 RWHP +75 shot l

Finally!
---
I've had GT500 AB's installed on by 2013 CS/GT for a year now. Since then I have read about the resonator delete. Read every comment and was worried it wouldn't make a difference or I wouldn't like it. What a great $80 delete! Doesn't sound a lot different at low idle or just cruising along but getting on it brings a smile to my face. A different, unmuffled, tone and it sounds significantly louder to my ears. Glad I made the change!
---
2013 CS/GT Sterling Gray, GT500 ABs, no resonators, Ford Racing Performance Tune
Can anyone post a pic of their stock exhaust prior to res delete? I can't find resonators on the GT-500 but I assume they have to be there, as the car is too damn quiet to not have them and just have the SVT mufflers.
Gt500s don't have resonators, that's why some people buy GT500 over axle pipes for their GTs.
GT 500's don't have resonators. Here are a couple of pictures of the GT 500 OTA pipes I bought that were off of a 2013 GT500 compared to my stock OTA pipes.
The addition of the GT500 pipes really made a difference in sound.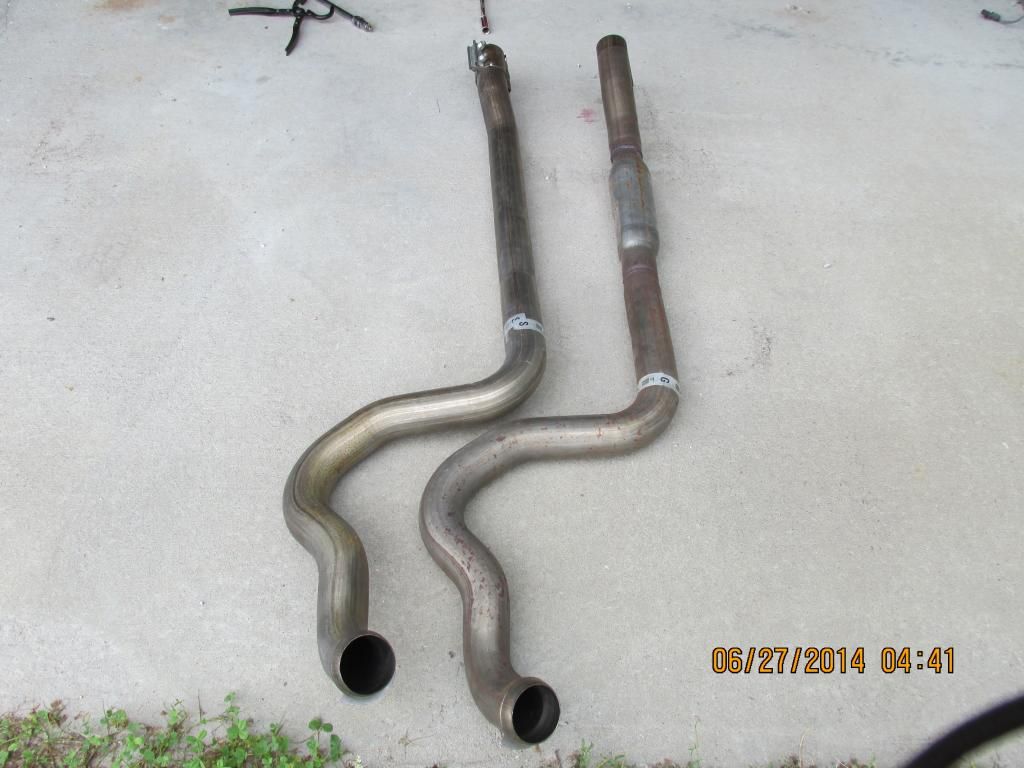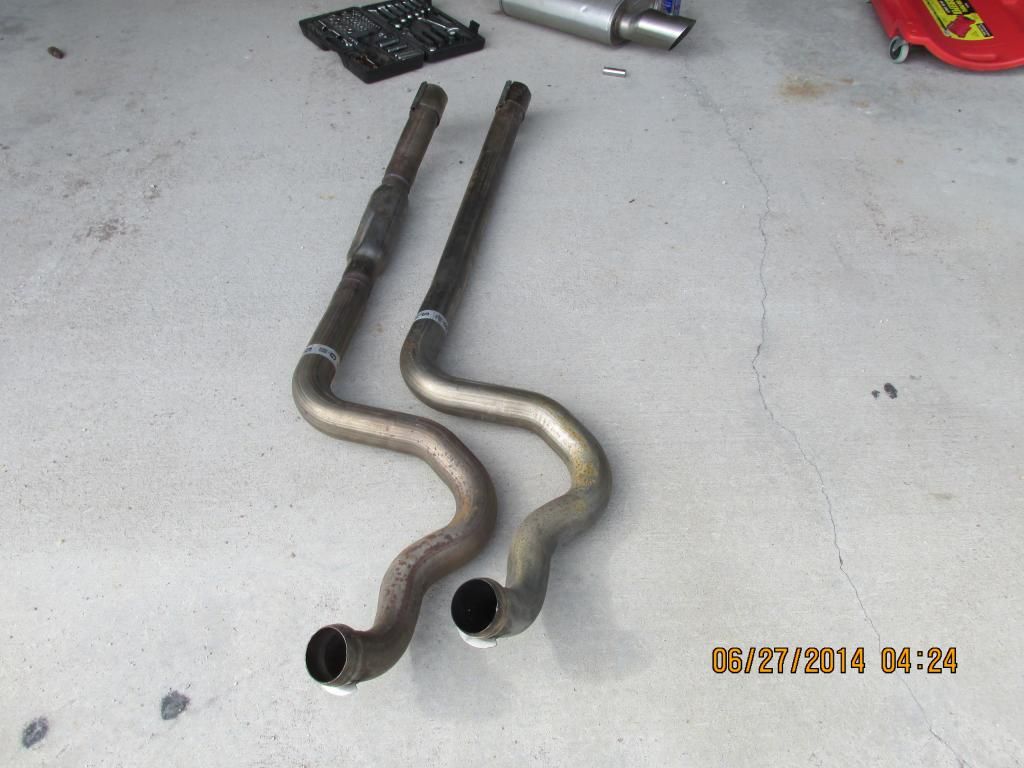 Wayne
---
2014 GT, Sterling Gray, base model, Automatic
GT500 AB, GT500 OTA pipes
Ford STB
Bob's oil catch can
Ford aluminum finned diff. cover
Ford all weather floor mats
Ford trunk liner and cargo net
Ford locking gas filler plug and wheel locks
That is what I thought...time to go with turn-downs or something like it @ the cats before the mufflers....GT-500 SVT mufflers have a beautiful sound, but when getting on it, the super-charger over-takes the exhaust note without question. When I had my turn-downs right after the cats exiting @ passenger\driver side, I loved the rumble, then when you got on it it still sounded proper as in the higher rpms the mufflers still did the work, did not sound like straight-piped crap.
Posting Rules

You may post new threads

You may post replies

You may not post attachments

You may not edit your posts

---

HTML code is Off

---