tinted my foglights!!!!!
---
I love it, even though it was a huge pain in da ass.
Looks really good, but too old school for me. Kinda what they did in the 1960's.
Nice look. I changed my bulbs out to yellow for the same effect.
---
Received 7/2/10: 11' GT base with 3.73,
Installed: Steeda CAI, SCT, Steeda tune, GT500 axlebacks, SVT leather wheel, Infinity Kappas, Boston amp, Bazooka powered sub, yellow fog light bulbs, dark front corner lights, GT500 splash guards, tint, SVE Drift matte 18"x9" wheels with 265/40s and SVE 1" drop springs, Koni Yellow, HP+ pads, brake duct coolers with CS front lower and splitter
Bought and soon to be installed: Edelbrock E-force stage 2
Stable: 14 SHO, 10 Road Glide
I reallllly like the way they turned out. Fits perfectly with the retro styling of the current gen Mustang.

Tim
---
Mustang base coupe, V6, manual transmission, Red Candy tint, performance package.

Upgrades: DSS aluminum driveshaft, BMR LCA's, Yukon 3.73 gears, MGW shifter.
Displaying 3.7 fender badges is like telling everyone your wife is "office hot."
I tinted my foglights last year. If you take out your fogs, its a lot easier to install the vinyl film. I soaked mine in warm, soapy water, then placed each film on the center of each fog light lamp. Using a blow drier and a credit card, push out bubbles from the center to each edge, using the blow drier to heat the vinyl and remove any creases. Once you have one segment stuck, the rest of the vinyl is easier. If you mess up, spray soap solution underneith the tint, and reposition, start over.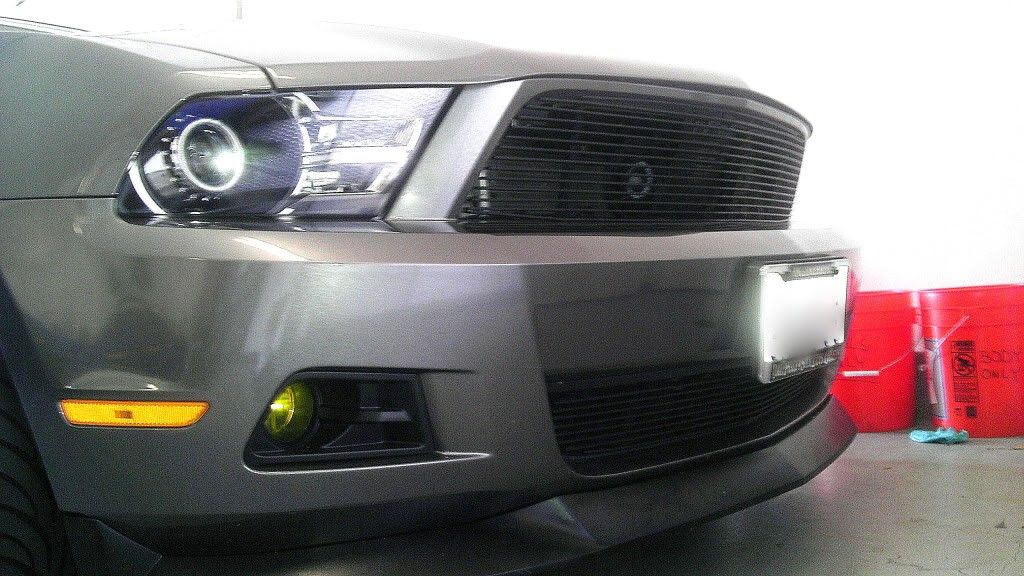 Looks great...Cool plate too.
---
2011 Mustang GT Premium Package, Candy Red, Security Pkg
Mods to Date;
Vortech V3 Supercharged
/Intercooled/9 lb boost, JLT Blow through intake, Tial 50mm Race BOV, K & N Breathers,
JPC RACING Tuned
,Vortech Boost A Pump,
TREMEC Magnum T56 Magnum
, Mcleod RST twin clutch, Upgraded clutch line,Modular flywheel, Aluminum Driveshaft,Borla ATAK Exhaust, Eibach Pro Springs,Adjustable Panhard,Raxiom Halo lights, Raxiom tail lights, GT/CS 19 inch wheels,LED Boost Guage, PLX Kiwi wideband
I just tinted mine the other day. It actually was a piece of cake, following the instructions to the letter from AM. Maybe I was just lucky.
---
2011 GT Premium 6M convertible. Sterling Gray w/401A package, charcoal seats w/grabber blue stripe. Security package. Roush front fascia, splitter and rear wing. Black bullit wheels with 18x9 front, 18x10 rear. FRPP suspension. FRPP x-pipe. Roush axle-back exhaust w/square tips. JLT carbon fiber CAI with custom tune. Carbon fiber engine cover & coil pack covers.
Yellow Fog Tint
---
Liked the vintage look imparted by the yellow tint. Got a small roll of film from Amazon.

Wish I could find a polished metal bezel cover to go over the entire fog surround. The items on the car are just narrow strips off e-bay.
---
JH 3
2012 RaceRed GT Premium, Brembo, 3.55, GT500 Axle-backs
Posting Rules

You may post new threads

You may post replies

You may not post attachments

You may not edit your posts

---

HTML code is Off

---