1st birthday gift
---
---
2016 GT Premium 401A black/black, 20"
Boss coil covers, JLT oil separators both, K&N,
6 piston front Brembos, GT350R steering wheel

2013 GT Track Pack Racing Red. Born 9-19-12, ETA 10-13-12.Arrived 10-12-2012....SOLD OCT 2015 '13 GT500 SVT wheels, '13 GT500 AB with valance, Eibachs, Boss Alcantara steering wheel, Boss coil covers, JLT oil separators both, K&N, Panhard bar, FR brake cooling ducts, SS brake lines, Konis Yellow, GT500 6 piston front Brembos
some tint would really compliment the red and black scheme. congrats!
---
2012 Mustang GT 5.0 6spd manual transmission-BBK Longtube headers-BBK O/R X- Borla S Type mufflers- Dolce DC34 Matte Black wheels - 255/35/20 Nexen N3000 all around.
Raxiom halos, all lights smoked, louvers, Tuned by Lund Racing
Quote:
A reward for a nice 1st year...GT500 PP wheels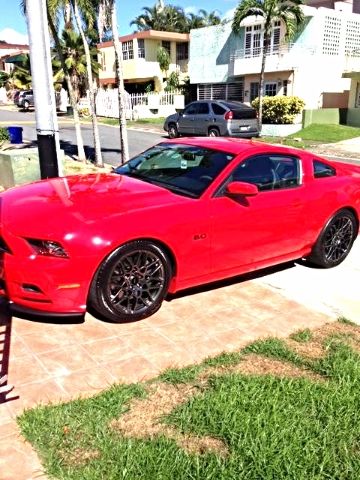 Very Nice!!!!!!!!!!!!!
Those are the joys of owning a black car!
---
Present: 2012 Mustang GT/CS - Race red - Electronics package - Security package - 3.73 - Steeda shift knob - Steeda shift bracket - ProCal II Tune - GT500 ABs - Shaftmasters DS - Boss 302S Wheels - Build date: February 14th, 2012

Past: 2011 Mustang V6 - Pony Package Premium Coupe - Black - Charcoal Leather - Roush Front Fascia - Matte Black Lemans and Hockey Stick Hood Stripes - 6% HP Charcoal Tint - 3.31
WOW! Very nice! Love those wheels... (and COLOR)!
---
2013 Mustang GT Base 6MT
93H Bama Tune, Roush Axle Backs, 11-12 white gauge overlays, White/Red rally shift knob, Metra Dash kit with Kenwood DNX5120, Tinted, 18x8 Charcoal AMRs with 255/45/18 Michelin Pilot Sport A/S tires.
Nice gift,they look great on your car.love the color.
Beautiful car!!!! I agree that some tint should be applied.
---
2013 GT premium GHIG. 6MT. Black int. Brembos. Corsa Sports. Jlt intake. SR Springs. BMR panhard. Pilot Super Sports
Posting Rules

You may post new threads

You may post replies

You may not post attachments

You may not edit your posts

---

HTML code is Off

---