Mustang color ?
---
So I am looking into getting a 2013/2014 Mustang with a 6 cylinder engine and automatic transmission. I am curious as much as I want to get the black color paint, I am not a fan of the issues that come with black paint like swirl marks and keeping clean. So I am thinking of going with the Sterling gray, is that a pretty good color to keep clean with ease? And how are the vehicles holding up reliability wise? have they been pretty decent with minor issues? I have been reading a lot on the forum about engine knock and control arm issues not sure if that was with older years but any input would be much appreciated it, and thank you in advance!
Administrator
Classic Member
4.6L Member
5.0L Member
S197 Member
Joined: Mar 2014
Location: Tampa Bay Area
Posts: 8,358
Welcome to the forum! I love the sterling gray color think its real sharp.
---
Engine mods - all stock, trust me, wanna run??!!!
BOSS Member
Joined: Sep 2010
Location: Union
Posts: 3,543
Mine is Sterling Gray. It's a great color and yes it does hide minor blemishes well. It hides dirt pretty well too.
Hey I was on the fence about black, but ultimately got black anyways. It is a bit harder to keep clean, but if you like the way it looks it's worth it. I'm sure gray would be a good color, but have you considered deep impact blue?
---
2014 Mustang GT, Track Pack, Black.
PONY Member
Joined: Apr 2012
Location: Las Vegas
Posts: 768
I had a black one and although it looked awesome when clean, it didn't stay that way for long. Honestly, changing colors was a big reason I decided to buy a '14. Mine had swirls and micro scratches and it drove me nuts.
Sterling Gray is one of the best looking colors out there.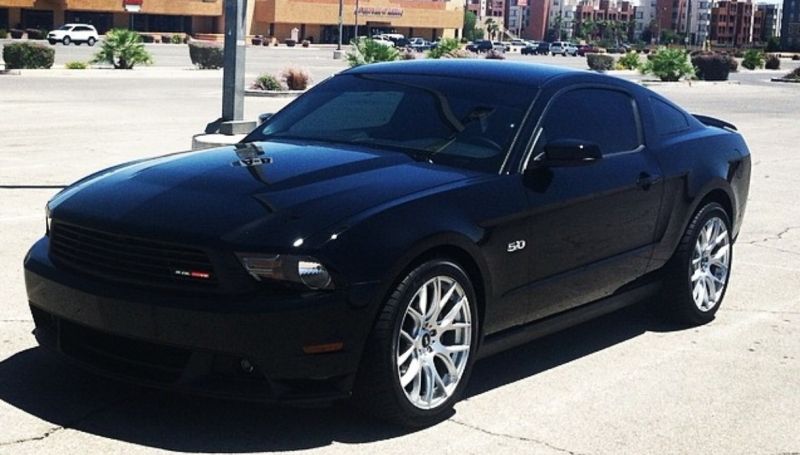 ---
2016 Mustang GT 401a, 6A, Magnetic Metallic, Nav, Shaker Pro, 20" SVE Series 3's, Steeda CAI, Corsa Sports, BMR SP080 Springs, BMR Caster/Camber Plates, JLT Catch Can, Redline Hood Struts.....

2014 Mustang GT 400a, 6M, Recaros, 3.73's, 19" Drifts, electronics/nav., Kooks A/B's, AED Tune /Steeda CAI/BBQ Igniter Tick... SOLD
I own a Deep Impact Blue Mustang and a Sterling Grey F150. You want Sterling Grey. It is one of the best/easiest colors to maintain and upkeep that I've ever owned. Tremendously more user friendly than black.

Deep Impact Blue is nearly as tough as black with fragility. Definitely recommend SG.
---
2014 Pony Package convertible l Deep Impact Blue on Black l auto (current)

2014 Ram Big Horn Crew Cab 4x4 l White on Grey l Chrome 20"s l Navigation l Hemi (current daily driver)
I thought the metallic sparkle of deep impact blue would make it easier to upkeep, well I learned something new. It's still a stunning color though.
---
2014 Mustang GT, Track Pack, Black.
I have a black 11,have not driven it all week because i'm half done my 3m buff. I have a sterling grey 350 and it's the best color as far as looks and maintenance. try building a sterling grey C/S .I have the brembo but would go a S/G C/S in a second.
Black looks great when it is shiny clean, waxed and hand buffed. However, it requires daily cleaning and waxing often. In short, black is a high maintenance color, and I would not recommend black unless you keep the car in a garage. Scratches in the clear coat of a black car appear white, so every one is an eyesore.
I wish Ford would bring back to the Mustang Screaming Yellow!
---
Bobby B, a patriotic Long Island Senior Citizen who drives a 2011 5.0 Premium GT Coupe, all black, 6-speed MT82, 3.55:1 differential, Bama 87S Tune, 18" diameter wheels, Pirelli P-Zeros, Comfort & Security Packages, spoiler delete.
God, please bless the USA

I will never buy another black car again....never.
---
2012 GT Premium, Brembo PP, MT82, 3.73s, Blk/Blk. Bama 93R, Koni Yellow Rear Shocks, Hawk Ceramic pads, Luxurious & Plush Floor Mats
Posting Rules

You may post new threads

You may post replies

You may not post attachments

You may not edit your posts

---

HTML code is Off

---