Insurance repair question
---
Ok so I bought my 2003 Automatic GT on 9/15/08. And already last week some lady in an 07 eclipse ran into my right rear. Heres pics of damage.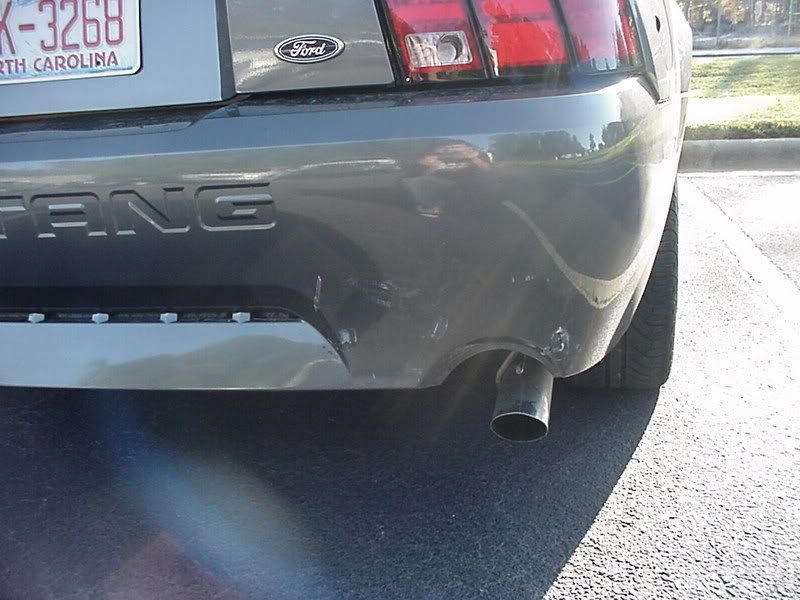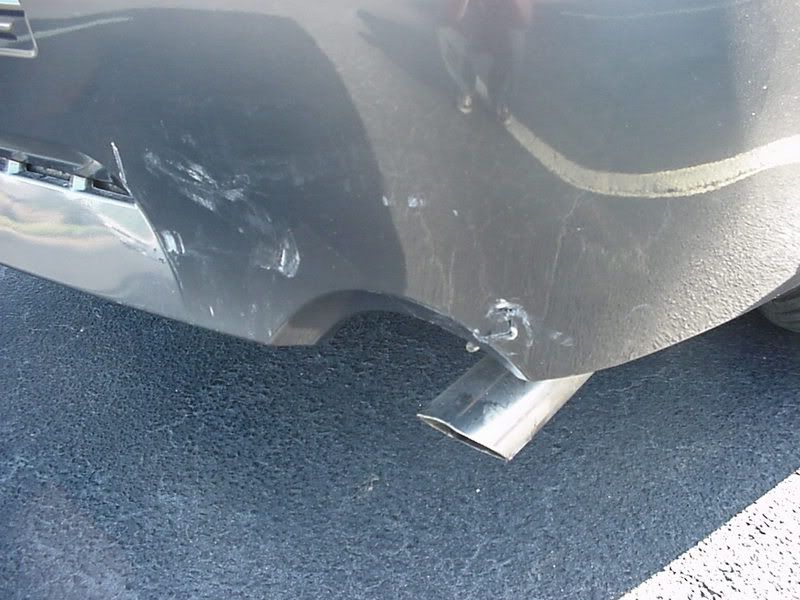 As you can see the bumper needs replaced and the exhaust pipe was pushed back far enough for it to come out of its rubber harness......thus its being replaced. The chosen estimate comes out to $851. The lady had Farm Bureau insurance and I have already contacted them and the check is being sent out tomorrow.
Heres my situation.....on all three estimates the price they are charging for JUST the original RIGHT cat back only is a whopping 250-270 dollars. So I stopped and thought.....I could just buy a set of MAC catbacks for 300-350 dollars and pay the difference and get one hell of a discount on some decent pipes.
So my question is.....will the check they send me be in my name, or the body shop's name?
If the check is in the body shop's name how can I negotiate the process of me buying my own cat backs and covering the difference between the OEM catbacks and aftermarket ones? As opposed to them buying the OEM parts themself? Am I breaking any laws or putting any liability on the insurance company or body shop?
Also.....If I don't increase diameter of my pipes how much of a sound boost can I
expect
? What is the main thing that increases exhaust sound.....muffler chambering or pipe diameter/width?
your name, mine was. moral of the lesson, save your sales slips, and get more customisation insureance :P
yea it should be in your name
---
04 GT: Built MMR 900 shortblock with trickflow heads and custom cams,vortech T-Trim intercooled @10psi,longtubes, all the bolt ons sct 2600 maf 60lb injectors, dual 03/04 cobra pumps with tank..you get the idea... dynoed at 476rwhp and 438rwtq on a concervative tune Next: Snow Performance Meth Injection Kit and More BOOST!
Just call their representative and tell them to make the check in your name. They usually do this anyway, but some don't, if you call and tell them they will, its your right.
---
The artist formerly known as SteedaMatt.
The check will be in your name. We all know someone who has kept the check and didn't fix the car. As for the exhaust, typically it is the design of the muffler that increases sound. The less chambers it has and more straight through the design, the louder. That said, A bigger pipe will be a bit louder and those big tips (echo tips)act as a megaphone. Too big on the pipes and tips sounds bad anyway. Stick with a nice muffler.
---
97 Cobra w/T56, alum DS, SPEC111 clutch, 4:10's, T&J Performance Forged 4v(8.9:1), Manley H-beams, Novi 2000 (21psi w/ 2.7'' pulley) Fast Track A/A I/C, Accufab 1696cfm TB, modified intake, Blow-through meter, Barry Grant Fuel syst., longtubes and H-pipe, 40 Flows, MSD ignition, Detroit True Track, 315 NT01's on 17 x 11's, 640 RWHP.
Posting Rules

You may post new threads

You may post replies

You may not post attachments

You may not edit your posts

---

HTML code is Off

---