New Guy question
---
Hello everyone I am new to the forum and I am looking at buying a 2000 Mustang and was wanted some opinions on it and what you think the value is for it. The guy is asking $12,000 for it.Below are the specs. Thanks for your help!
2000 mustang 4.6 mod
For sale is my low mileage (33k) supercharged mustang, the car is 100% mechanically sound.All parts have less than 100 miles on them,I have all stock parts for the car as well as reciepts for build,clean carfax and clean,clear title in hand
MOTOR-Stock internals,BBK 78mm upper plenum throttle body combo with brand new iacv,qualifier aluminum lower intake, accel coils,80lb Siemens deka injectors, brand new ngk plugs,bbk shorty headers, brand new BBK x pipe into a mac catback,sct x3 tuner with 3 tunes...
TRANS
-4r70w with Lentek valvebody with copper bands,tci 3500 stall converter(locked),B&M deep sump pan,B&M shift kit,have all receipts...
CHASSIS-SUSPENSION-Full length subframe connectors, aluminum drive shaft, drive shaft safety loop, polyurethane motor mounts,brand new slimline electric fan,Maximum upper and lower control arms,Granatelli cc plates,eibach pro springs,strange adjustable 10 way shocks in rear,kyb front struts,fresh alignment...
REAREND-Fresh 373 gears,dust seals,33 spline Moser axles,everything was gone through and replaced and adjusted by Greensburg driveline, have paperwork...
SUPERCHARGER -Paxton Novi 2000 with all new hardware and fittings,silicone couplers, t bolts,all 3in piping except blower intake (4in),all piping and blower have been sanded down and painted satin black,vortech bov, big front mount intercooler,fresh belt and filter,aeromotive 340 stealth pump. 10 Lbs of boost.
INTERIOR-Stock leather interior tan with gauge bezel dual pod for aem boost and air fuel gauges,also has an autometer water temp gauge,all power doors-windows-heat work,no ac,Kenwood Bluetooth deck with all Kenwood speakers..
Rust free and always garaged
[IMG]
[/IMG]
[IMG]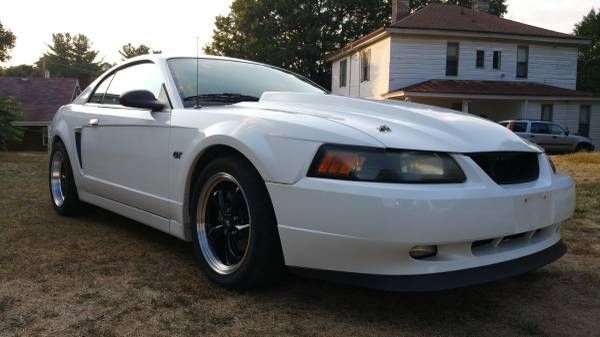 [/IMG]
[IMG]
[/IMG]
[IMG]
[/IMG]
[IMG]
[/IMG]
[IMG]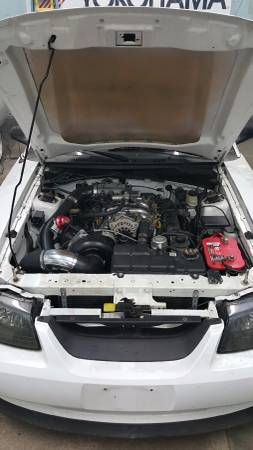 [/IMG]
[IMG]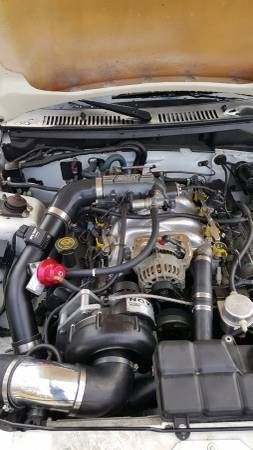 [/IMG]
Administrator
Classic Member
4.6L Member
5.0L Member
S197 Member
Joined: Mar 2014
Location: Tampa Bay Area
Posts: 8,173
Welcome to the site! Looks like a nice ride, my concern would be do you personally know the person selling? If not I just have a problem buying a vehicle that heavily modified not knowing if it was done correctly. With the low mileage and the seller saying less then 100 miles on all mods is pretty good unless the hundred miles all came in 1/4 mile at a time! You generally loose money when you mod a vehicle which I'm sure he is but I would still try to knock it down more. Best of luck and let us know how it goes.
---
Engine mods - all stock, trust me, wanna run??!!!
I would not do it. With a little more money, you can get a nice Mach 1. Better engine and more collectible in the future.
BOSS Member
4.6L Member
Joined: Jun 2012
Location: St. Louis
Posts: 4,990
Looks like a nice ride. Obviously has the best mods you would want.

If you are serious about it, drive it like you stole it, and get a trusted mechanic to look it over. 12k seems reasonable to me with everything done to it and the low miles.

I do have to wonder why he did all of this, drove it 100 miles and now wants to sell it...
---
Matthew 26:52-54 / Go Pack Go!

1987 Mustang GT Hatchback - 2V Mod Swap In The Works

1997 Lincoln Town Car, PI Intake/Cams, Sofa-On-Wheels, "Fat Tony" we call it

2001 GT Convertible - D1SC / Geared / Cammed / 440wh 400wt - TOTALED 2/2019
Thanks for the input guys. This would just be a weekend cruiser for me. I would actually be trading him a offroad buggy with a value of 10-12K so there is no cash or negotiating involved. Here is some more infor and answers to some of your questions.

The tunes were done by Timmy at Rhodeheavers, about 400 to the wheels,safe tune on 93 and 110 half and half,only miles are dyno time and I drove it around Bridgeville a couple times

I'm selling it due to a family emergency back home, I had it for sale and before this happened for 12K but now I really need to get rid of it so I can go back home and take care of some things that's the only toy im willing to get rid of, I started building the car and last year when I got laid off I brought my Harley back up here and since then I just don't drive it kind of lost interest in it

Never been to the track

I dropped it off for the blower work 10/15, with 33484 on the clock

There's guys on forums that rune stock bottom ends on mod cars at 500 to the wheels for 2 or 3 years before any issues arise but I wanted it to be safe,all my supporting mods will support 7 to 8 to the wheels with a bottom end and bigger crank pulley
Most important to thing is to check over it well (or have it checked over).


Not all guys the modify beat them to death, with that low of mileage my thought is this is a weekend cruiser and the guy threw a supercharger on it because (lets face it, compared to a lot of more recent Mustangs, Camaros, etc. our 4.62v have a heck of a time keeping up).


But he does have the right combo of mods to make one think that Cooper could be on to something (miles were added a 1/4 mile at a time).
If the car is straight and checks out I do not think 12k is a bad deal at all for it with that set up.
If you are looking at it from an investment, yes a Mach or Cobra will hold a better value, but how long are you looking to keep it and what do you want it for are things to ask yourself.
I would be a little skeptical. He says he is selling it for a family emergency but now is trading you??
Posting Rules

You may post new threads

You may post replies

You may not post attachments

You may not edit your posts

---

HTML code is Off

---