Whose good with a Multimeter?
---
I think I have a short somewhere because when I went out today to go somewhere my car wouldn't start and the battery was dead. I have a multimeter that someone gave me but I've never used it. I want to figure out how to measure if there is a draw on the battery and how much. I've been told that the computer and alarm pull around 20 - 50 milliamps so anything above that will mean somethings drawing power. Also, if you can tell me how to check if the battery is good or not. Once I figure out the power is being drawn then I can get into the fuse box and figure out where(fun
)
I bought the battery about a year ago so it should still be good but I have heard some horror stories about Optima batteries. Hopefully, that isn't the case since that ******* was expensive!
This is the multimeter I have: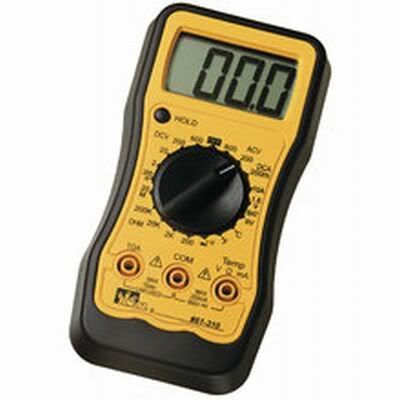 Thanks!
John
---
'03 Mustang GT, Maximum Motorsports Max Grip Box, Wilwood SL6 front/DL4 rear Big Brake Kit, Corbeau F1X Racing Seats, MGW Short Shifter, MAC Long Tube Headers/Prochamber mid pipes/Flowmaster 40, FRPP 4.10 gears, TrickFlow Diff Cover/ 75mm TB/Plenum, Moser 31 spline Axles, UDP
Disconnect the negative terminal on the battery. Plug the red lead into the left socket marked 10A and the black lead into the center com. Selector switch to amps (DCA). Hook up the meter in series-red lead to the battery terminal, black lead to the ground wire. You should be reading the draw with the key off. Make sure the battery is charged.
Frank
---
2013 GT Premium, Red Candy Metallic, Brembos, Auto, GT500 Axlebacks.

SOLD! 2008 GT Premium, Vapor Metallic, 5-speed stick w/MGW, Ford Racing M6066 Whipple S/C, 3.31 gear, GTA's. GT500 front end, spoiler, suspension and wheels. Sequentials and one touch. - can't wipe the smile off my face.
You could take your car up to an auto store. (ie: autozone; advance auto parts) they will check your battery and alternator for free.
Posting Rules

You may post new threads

You may post replies

You may not post attachments

You may not edit your posts

---

HTML code is Off

---