finally did it 6.99
---
I decided to go to the track today for a lil test and tune, I figured i would knock the dust off old blue.
First pass off the trailer was a .008 light and she ran 7.07, after i got her warmed up good i decided to run the next pass off the
trans
brake with a 3000 rpm launch
terrible light (lol) 1.49 60 foot 6.990 @ 97.18
finally after almost 5 years I did it a 6 sec pass first pass in old blue was 8.17 ish and with no changes to the motor except intake headers and carb (e-85) and a lot of suspension work i did it
i just turn it to 5900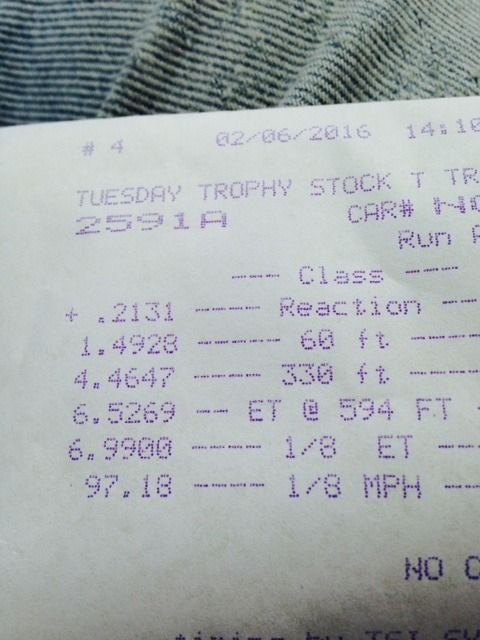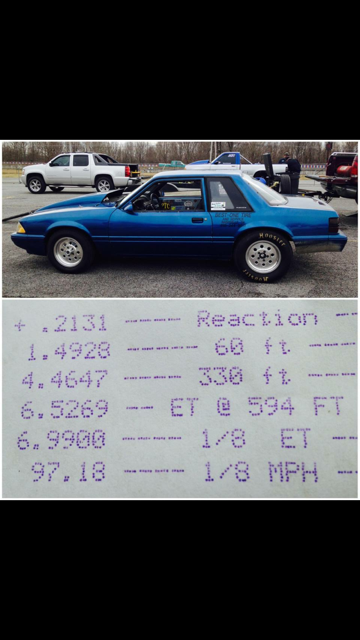 ---
88' coupe 387 ci poor boy stroker eagle 3.85 crank stock 351 rods (5.956) stock 5.0 pistons (4.00) c-4 built by PTC, 4.30 8.8 rear end 1.49 60 foot 6.99 1/8 mile 97.18 Mark Sullens E-85 carb UPR suspension
Administrator
Classic Member
4.6L Member
5.0L Member
S197 Member
Joined: Mar 2014
Location: Tampa Bay Area
Posts: 8,147
Very respectable, congratulations!
---
Engine mods - all stock, trust me, wanna run??!!!
Nice I am hoping for my first 6 second pass this summer in my 97 v6, best so far has been a 7.70 but I have added over 100whp since then so we will see, but that's exciting nice job!!
Posting Rules

You may post new threads

You may post replies

You may not post attachments

You may not edit your posts

---

HTML code is Off

---