UPR's 2015 Mustang Catch Can w/Video!
---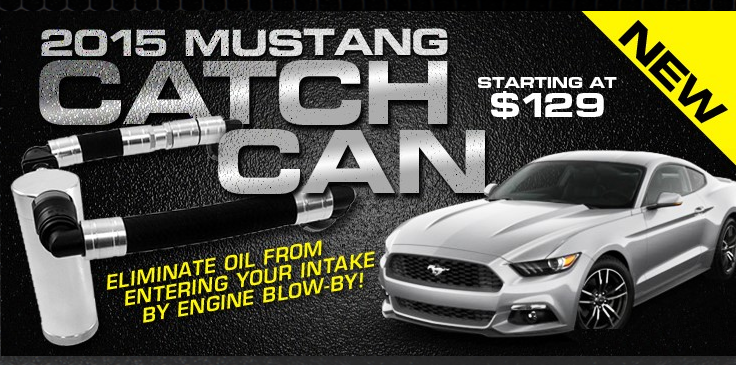 This 2015 Ford Mustang GT single valve kit is the perfect fit for your engine bay, with its extremely efficient compact design and Incredible Looks. We went the extra mile to ensure you get the best quality components. This kit is 100% Modular and can be fully disassembled to be emptied and cleaned with a few pushes of a button, then unscrewed and emptied in seconds.
We utilize Goodyear Braided Hose and Billet Hose Ends to give you the Strongest and Best Performing Setup Possible- No cheap stock lines which have been cut and spliced here! Featuring the New UPR Plug N Play Catch Can Fittings, you can empty the can without removing the intake cover or catch can lines from your engine. (UPR Exclusive Push Button Fittings)
We have invested hundreds of hours testing our new 4 Stage Oil Separator to ensure the claims and results will exceed your expectations. We even doubled the size of the oil containment chamber. The design of this unit is more along the lines of a Truly Engineered component and cannot be compared or confused with units that have side by inlets and outlets with screen rolled up and shoved in them. The 4 chamber technology in UPR catch cans captures and filters all the oil vapor and trash from getting into your air intake tract. That's the most important reason for a catch can in the first place!
Our cans are manufactured from Domestic T-6 6061 Aluminum bar stock and finished off using only the best Diamond cutters to exceed your expectations of what a superior product should fit and look like.
UPR is the largest aftermarket catch can manufacturer in the country, continually improving our designs to stay ahead of the competition and give you the cutting edge technology of tomorrow today. We are so confident in our products, we offer an unconditional warranty to let you know you can always count on UPR Products.
Here is an excellent video which demonstrates why UPR's catch can is superior to the commonly available cans on the market-
http://youtu.be/CrKskYBVHbI
---
Like us at Facebook.com/TeamUPR
Follow us on Instagram @uprproducts
Ask me about the discount on UPR Products for AFM members!
Posting Rules

You may not post new threads

You may not post replies

You may not post attachments

You may not edit your posts

---

HTML code is Off

---