fair price for this SVT Cobra?
---
long time lurker here, thinking about pulling the trigger on this car...
link:
1993 Ford Mustang SVT Cobra
assuming they would negotiate, is $25K a decent price or am i way off?
GLOBAL MODERATOR + NEW MEMBERS MANAGER
Classic Member
4.6L Member
5.0L Member
S197 Member
Joined: Mar 2014
Location: Tampa Bay Area
Posts: 7,915
The normal asking price I have seen 1993 Cobras going for is about $25,000 but that is usually with about 6,000 miles or less. The one you are looking at looks very nice but I would value it around $20,000. Best of luck!
---
Engine mods - all stock, trust me, wanna run??!!!
GT Member
5.0L Member
S197 Member
Joined: Mar 2011
Location: Dracut
Posts: 1,297
Drivers seat has issues going on at the left corner, the center console isn't original.. Looks like their value has climbed up in the last few years. I was looking for awhile and as B.Cooper stated they were around $25k. I attached a link for you to compare the 2, the one in my link is authentic
https://www.cargurus.com/Cars/l-Used...ting=242024510
---

2014 GT Premium, Track Pack, Barton shifter, Borla S-type exhaust, Resonator delete, 3.73 gears, Airaid C.A.I., 93 Race Tune, JLT Oil Separator
SITE ADMINISTRATOR
Mustang II Member
V6 Member
4.6L Member
5.0L Member
S197 Member
Joined: Jan 2007
Location: Levittown
Posts: 13,020
They are both nice cars, but there`s no way "I" would spend anywhere near 40k for a `93 Cobra. Of course this depends on how much you want the car, if it`s your "dream car" etc. Lots of variables.

25k for the one you showed in the first link? Mabey, but not without having a competent mechanic go over it from hood to trunk. & if the seller won`t let you have it inspected, that should raise a big red flag....
---
2013 GT CONVERTIBLE GHIG
2015 F-150 King Ranch crew cab
Dogs are not our whole lives, but they make our lives whole.
Saving one dog will not change the world, but surely for that one dog, the world will change forever.
AFM SITE ADMINISTRATOR
NEVER APOLOGIZE FOR BEING PATRIOTIC!
I bought mine in 1997, complete with a crunched right fender, for $6000, $9000 was being asked, had 91K, everything stock.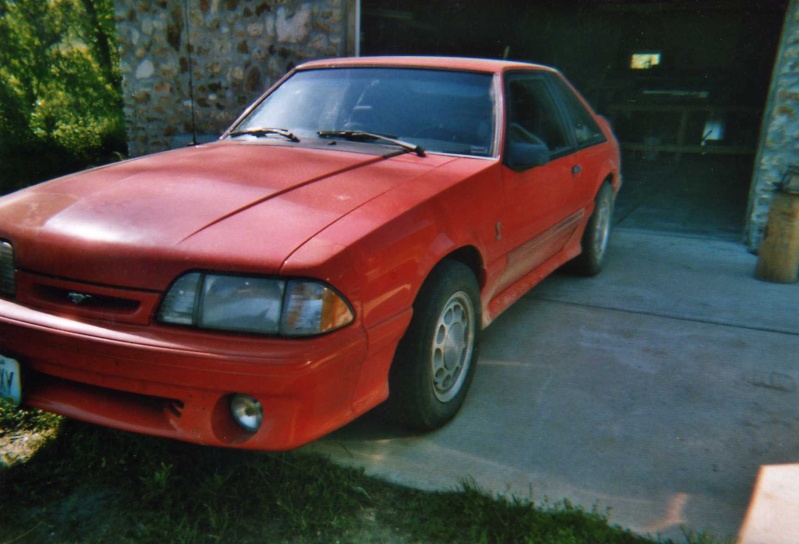 I put the 10-holers on it to save dough on tires. My wife allowed the "buy" only on condition that she use it, after repairs, to drive to work daily! She was the talk of the parking-lot crowd.
My nephew in the Marine Corps., stationed in Okinawa, got it from me for a song, has it up on blocks in Kansas now. He will be glad to hear about this thread!
Posting Rules

You may post new threads

You may post replies

You may not post attachments

You may not edit your posts

---

HTML code is Off

---