Discussion Starter
·
#1
·
Hey guys figured I'd share this little wanna be roof spoiler mod I just added to my mustang...
I did it on my Accord that I had before the mustang and really liked how it came out so figured I'd try it on the new car. I think its a keeper...
Probably no where near anything functional looks nice I think.
On my Accord, the 3rd brake light is on the rear deck in the interior and the 12% tint covered it up so much that it was nearly useless in the florida sun... so i went further by adding a water proof RED LED strip on to it which I tapped the 3rd brake light for and used it as my third brake light.
I've had thoughts of doing that to the mustang since the GT500 spoiler kinda comes close to covering up the 3rd brake light on the trunk lid. So the idea was getting one of those 3rd brake light decal that would spell out something... in this case I'd do something like 'M U S T A N G'... and then since my 3rd brake light would be almost useless, i'd add my LED mod to the 'roof spoiler'...
LoL little touches that make a difference...probably ricey.. but looks nice in the end I think.
Here's what the LED looked like on the Accord: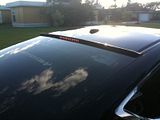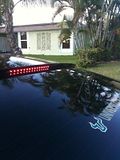 And an Idea of the light decal, mine again would just say: M U S T A N G