Discussion Starter
•
#1
•
With all the drama about the engine knock and MT82 woes (neither of which I am experiencing btw) I'm wanting to steer clear of any power adding mods for a while and focus more on cosmetic mods.
One of the main cosmetic mods I'm wanting to do is a different hood. I'm kinda torn between 2 different hoods. The cervinis c-Style "elanore" hood and the Trufiber ram air hood.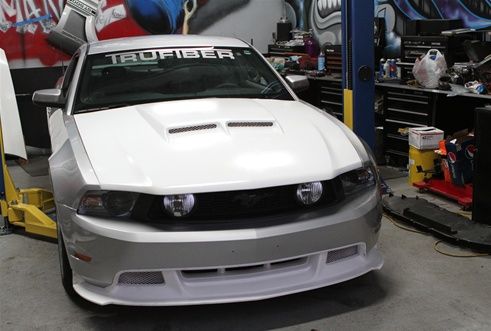 I can get both of them for more or less the same price shipped to our local body shop so price isn't the deciding factor here.
I'm not looking for anything fancy or showy. The super snake style ram air hood is too agressive looking for me personally and I'm not the biggest fan of big cowl hoods.
Each of these hoods seems to have a nice look to them but not overstated style.
My biggest question though that's making me lean more towards the cervinis hood at the moment is whether or not I will run into problems with the ram air hood and rain once I put an open filter intake on the car. I know that companies like APEXI make a special sock that covers the cone making it (according to them) water proof and prevents hydro-lock but I still am not sure how comfortable I'd be with a lot of water being dumped into the engine area. I assume that this is what would happen but if not, I'm curious to know why it wouldn't be a problem.
I'm uneducated on how true ram air hoods cope with the elements.
So anyways, any opinions or comments and experience with ram air hoods + heavy rain would be welcome.
I'm hoping to order one of the two within the next couple of months once I have the $$ saved up to have it painted and installed (about $500).